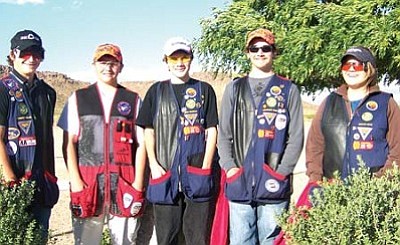 Originally Published: June 27, 2010 6 a.m.
KINGMAN - The Mohave Top Guns Youth Scholastic Club closed out their second season at the Seven Mile Range last month.
The club saw a membership of 50 youth (double from last year) from the area meet at the Seven Mile Range since September, shooting twice a month, learning gun safety, the principles of trap, skeet and 5-stand - and having fun while doing so. Sponsored by the Arizona Game and Fish Department, the Mohave Sportsman's Club, Seven Mile Range and the Friends of the NRA, groups of young people have the opportunity to work with coaches, and on occasion celebrities, in the sport of trap to learn techniques that will aid them in their competition shoots, day to day shoots and in the field itself. Donations from Arizona Game and Fish Department allow the youth to participate using loaner shotguns and enough ammunition to allow them to shoot at no cost during most of the season.
Several of the athletes took the opportunity to participate in fun shoots hosted by different clubs around the state. In doing so, these athletes prepared themselves for the state competition at the end of their shooting season in Tucson. The groups shot as teams at the fun shoots in Phoenix and at a fun shoot hosted by the club and Seven Mile Range.
Mohave Top Guns sent 17 athletes to the State shoot this year, three full squads and a partial with a single at the junior varsity level. All of the youth performed extremely well, walking away with three team trophies. The two entry level teams walked away with third place finishes, the intermediate advanced squad barely missed a repeat of last year's first place, taking second. The JV shooter, Forrest Keller, finished fourth.
The Mohave Scholastic Clay Target Program team of five shooters along with an alternate travel to Nationals, which will take place in Sparta July 23 and 24. The club is in the process of raising money not only for these athletes but also for the club itself in, preparation for the upcoming season that begins in the fall. They are currently holding a raffle, doing presentations to local organizations for sponsorship and community cleanups as part of their fundraising activities. Raffle tickets are available through the athletes, at the Seven Mile Range, through Mohave Sportsman's Club or at Accurate Arms and Bank Street Guns.