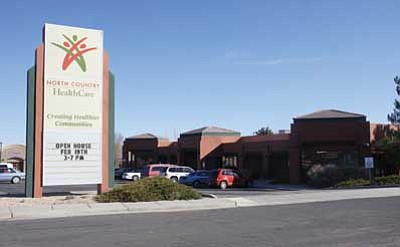 Originally Published: March 3, 2010 6:02 a.m.
KINGMAN - It may be easier for some Kingman residents to get healthcare. On Feb. 19, North Country HealthCare celebrated the expansion of their Kingman facility at 1510 Stockton Hill Road.
North Country offers primary healthcare, the type of care you would seek from a regular doctor visit, not only to residents with health insurance but to residents who don't have insurance or may be underinsured.
It offers a sliding pay scale based on income and the size of a family for residents who are uninsured or underinsured, said North Country HealthCare Office Manager Crystal McClain.
The Flagstaff-based organization moved into Kingman in November 2007 and set up shop on Stockton Hill Road with three healthcare providers and eight exam rooms.
In 2010, with more than 2,000 patients, the office saw a definite need to expand its services, McClain said. The company nearly doubled the size of its facility with seven new exam rooms and one procedure room. They also added three additional healthcare providers, including a pediatrician, and extended their office hours.
"We listened to what the community was telling us," McClain said.
The company has extended its office hours to 8 a.m. to 5 p.m. Mondays and from 7 a.m. to 6 p.m. Tuesdays through Fridays.
The expansion of the facility was paid for with stimulus dollars, according to North Country Director of Marketing and Development Rick Swanson.
North Country HealthCare started in 1991 as a free clinic in Flagstaff by two Flagstaff Medical Center physicians who saw a need to treat the under- and uninsured.
In 1996, the clinic started to receive federal funding. Since then it has added 11 offices throughout northern Arizona including in Seligman, Ash Fork and Lake Havasu City.