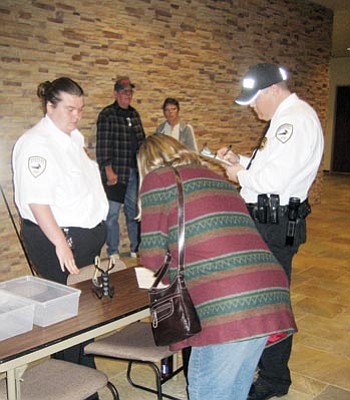 Originally Published: March 5, 2010 6:02 a.m.
KINGMAN - A Golden Valley man has filed for an injunction to prevent Mohave County from continuing to enforce its new polices that prohibit politicking on county grounds, require all weapons to be checked at the door and establish a new dress code for visitors.
According to court records, Jim Kanelos filed for an injunction on Monday against the county, the county Board of Supervisors, County Manager Ron Walker and County Attorney Matt Smith.
In the complaint, Kanelos states that the county's new policies violate his First Amendment rights along with his rights under the Arizona Constitution and his rights to due process, peacefully assemble and right for redress of grievances.
He asks that the court grant him an injunction until the constitutionality of the county's new policies is determined. "I felt that my civil rights were being tromped on. I feel that the county has overstepped its bounds where it comes to the U.S. and Arizona constitutions," he said.
"I hope that more citizens will step up and file suits. Our only recourse is the courts."
County Public Information Officer Darryle Purcell said he was unaware of the suit. The county does not discuss legal actions that may be pending against it, he said.
"However, we believe in the justice system," he said.
"That (a lawsuit) is the civil way of settling things," said Walker.
The new policies were instituted during the Monday Board of Supervisors meeting.
In November, Golden Valley resident Luca Zanna was asked to stop passing out flyers before a town hall meeting held by Sen. John McCain at the County Administration Building.
Zanna was told his actions violated a county policy.
The county did not have a written policy against the public passing out flyers, signature petitions or other political activities until Monday.
The Board also approved a weapons policy on Monday that requires all deadly weapons to be checked in and securely locked up by security before a person can enter the main part of the county building.
The policy was instituted after resident Mervin Fried attempted to enter the county building with a pitchfork during a protest in front of the building on Feb. 16.
The Board has also established a dress code Monday, one which prohibits people from wearing tank tops, muscle shirts and halter-tops, among other items.