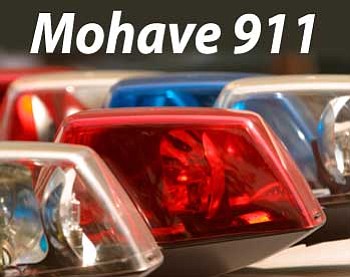 Originally Published: March 8, 2010 6:02 a.m.
Mohave Silent
Witness Tip of the Month
Every year, thousands of consumers lose money to telemarketing con artists. Telephone con artists will say anything to try to cheat people out of money. They may call you and imply that they work for a company you trust, or they may send direct mail or place ads to convince you to call them. Consumers should watch out for telemarketers who pressure you to act immediately, refuse to send you written information, use scare tactics, demand that you send payment by wire or courier, demand that you pay taxes, custom fees or mailing fees to claim a prize, request your financial account numbers, promise to recover money you have lost in another scam for a fee, claim that you can earn money by working from home or refuse to stop calling when you say you are not interested.
Shirley Mathe
President
To report crimes anonymously, call 753-1234 or 1-888-227-8780.
Silent Witness meets at 6 p.m. the second Wednesday of the month in the Kingman Police Department.
KINGMAN - The Mohave County Sheriff's Office is warning the public of a possible scam. A senior citizen was recently contacted at his residence in Kingman by two young male subjects supposedly selling Dish Network television service. The senior citizen advised that he was partially blind and he had no use for the service. The male subjects informed the senior citizen that they had "special programming" that would work for him. As a result, the male subjects convinced the senior citizen for personal information, including his Social Security number and a credit card number to conduct a credit check. The senior citizen has not been re-contacted by the male subjects. The two male subjects were wearing T-shirts with "DISH" printed on them. This incident is believed to be a possible scam and the Sheriff's Office would like to caution residents. If you suspect fraud, contact your local law enforcement office.
KINGMAN - Mohave County Sheriff's deputies arrested two 14-year-olds Wednesday for felony unlawful use of means of transportation. Deputies responded to an automotive theft report in the 4700 block of N. Sierra Road around 8:44 p.m. and contacted the reporting party, who said that she learned her son had stolen a car earlier, gotten into an accident and left the scene. Deputies contacted the owner of the vehicle, a 36-year-old male victim. The victim said his daughter and the boy had taken the car from their residence in the 1500 block of John L Avenue. Investigations determined that the boy was driving the vehicle with the girl as a passenger earlier that morning when they struck a parked car in the 4700 block of N. Van Nuys Road. The stolen vehicle was driven back to the residence by the juveniles. Deputies contacted the teens, who both admitted to taking the vehicle and being involved in an accident. They were arrested, transported and booked into the Mohave County Juvenile Detention Center.
KINGMAN - Mohave County Sheriff's deputies arrested Martin Villegas, 62, of Golden Valley Wednesday for possession of marijuana, possession of drug paraphernalia, felonies, along with DUI and DUI with a blood alcohol concentration over .08%, misdemeanors. Deputies responded to the area of Garnet Road and Shinarump Road around 7:22 p.m. in an attempt to locate a Ford truck pulling a travel trailer that had no lights on the trailer. Dispatch advised that a reporting party had observed the truck cross over Highway 68 from southbound Estrella Road without stopping for traffic. The vehicle was then reported to have almost hit three vehicles and was swerving all over the roadway. Deputies located the vehicle and conducted a traffic stop on Garnet Road at Aquarius and contacted Villegas, the driver. Deputies observed Villegas' speech to be slurred. During conversations with Villegas, he admitted to drinking. Following the field sobriety tests, Villegas was arrested. A search of Villegas revealed a make-shift pipe with burnt residue. A search of the vehicle revealed a plastic bag containing marijuana. Villegas was transported to the Mohave County Sheriff's Office, where an analysis revealed his blood alcohol concentration to be .119%. He was transported and booked into the Mohave County Jail without incident. The vehicle was towed from the scene.
More like this story