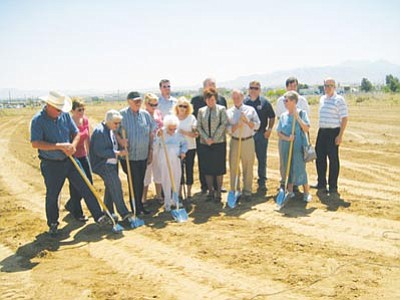 Originally Published: March 8, 2010 6:02 a.m.
KINGMAN - After five years of fun runs and fundraising, the dream of a hospice center for the terminally ill in Kingman has become a reality. Kingman Regional Medical Center celebrated the opening of the Joan and Diana Hospice Home Saturday evening.
"We're very excited about it," said KRMC CEO Brian Turney.
The new 9,800 square-foot home will augment the hospital's current hospice services, he said. Hospice allows patients with a terminal illness to live out the remainder of their lives in a comfortable setting.
KRMC currently has around 50 volunteers and staff that provide home hospice services for residents, said KRMC Foundation President Krystal Burge
The new $2.54 million home has 12 private rooms with private baths, a dining room and a study for patients diagnosed with a terminal illness, he said. It will make it easier for hospice patients who do not have family or can't spend their final days at home.
"This wouldn't have happened without the community," Turney said. The entire project was built using donations and through fundraising efforts such as fun runs, he said. It took five years to raise enough money to build the home.
Two of the largest donors to the project were the Lingenfelter family, who donated $500,000 and the property the home sits on, and the Becker family, who also donated $500,000, Turney said. The home is named after Joan Becker and Diana Lingenfelter.
"They've been tremendously supportive," said KRMC Chief Operating Officer Ryan Kennedy.
However, they weren't the only ones in the community who stepped forward. There were many, many people who donated or helped to raise funds for the home, Kennedy said.
"It's a real tribute to the community," he said.
"This is all due to the efforts of the community," said Burge. "We even had kids running in the races just to raise a few dollars. We've really been waiting for this a long time."