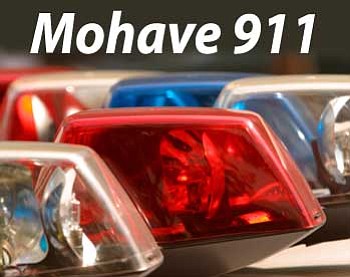 Originally Published: March 9, 2010 6:05 a.m.
KINGMAN - Mohave County Sheriff's deputies responded to a report at the Mohave County Jail on Saturday regarding an assault by an inmate. Deputies spoke with the victim, a detention officer, who reported that Mark Anthony Stubbs Jr., 26, of Hesperia, Calif., would not comply with his orders to go back to his cell. The detention officer said he suffered a broken nose when Stubbs punched him. Stubbs was charged with felony aggravated assault on a detention officer.
KINGMAN - A 26-year-old woman was arrested and charged with three misdemeanors, including disorderly conduct, false emergency reporting and criminal trespassing after an incident in the area of Able Drive and Diagonal Way just before 10 p.m. Friday. A neighbor in the area called authorities to report a woman in her backyard. When deputies with the Mohave County Sheriff's Office arrived, the woman told the deputies that her husband had shot at her and missed and that he was inside the home with their children. The MCSO responded with a tactical unit and entered the residence and determined that no one was inside. Authorities learned that the woman's ex-husband had moved out of state and that she had lost custody of her children several months ago. She was arrested and charged with the three misdemeanors.
More like this story