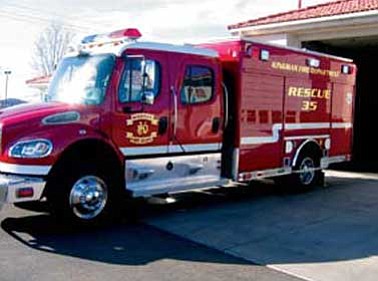 Originally Published: March 10, 2010 6 a.m.
KINGMAN - The Kingman Fire Department will receive a $279,000 operations and safety grant from FEMA, the second highest amount awarded in Arizona in 2009 after the Phoenix fire department.
The money will be used to purchase 33 portable radios, five mobile radios, nine vehicle and station chargers and six cardiac monitor/defibrillation units.
The fire department had already identified the radio needs as a capital outlay request, meaning that the grant will save taxpayers the expense of funding the purchases through the city. "This is a piece of the puzzle for overall communication needs and takes some burden off the city of Kingman," said Battalion Chief Bill Johnston.
The radios will replace those that were already at the end of their lifespan and will add channel capacity, reduce battery failure, and increase overall reliability, along with standardizing equipment across the department.
The new radios will be compliant with new industry standards and the Department of Homeland Security statewide communication plan.
The new cardiac monitors/defibrillators alone cost $150,000 and will have all the bells and whistles on the latest models, Johnston said. "These have much more capabilities, like pacing the heart," he said.
The grant had a local matching funds requirement of 5 percent, or $14,680, which was approved by the City Council at its March 1 meeting.
Around 19,800 departments nationwide applied for the grant, and around 2,400 were awarded. Arizona had 152 applicants, with 19 awarded.