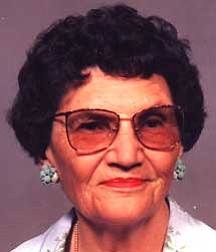 Originally Published: March 11, 2010 6 a.m.
Helen Irene Oakland, 82, passed away peacefully at her home in Kingman on Wednesday, March 3, 2010. She was born March 8, 1927, in Billings, Mont., to the late Andrew and Genevieve Grove.
She is survived by her sister, Elizabeth; brothers, Gerald and Bill; daughter, Jackie (Richard) Glancy; and grandchildren, Kerry and John. She was preceded in death by her first husband, David F. Hughes; sister, Phyllis; grandson, R.B.; second husband, Carl Oakland; and son, David A. Hughes.
Helen was a secretary for many years. She was diagnosed with Chronic Fatigue Syndrome, which greatly decreased her amount of physical activity. She became too ill to work but kept an interest in family, friends and home.
Helen liked to play card games, work crossword puzzles, watch "Antiques Roadshow," "Jeopardy," "Wheel of Fortune," reading, a good joke and was a fan of country music. Helen was fond of cats. She collected cat figurines, etc. Most were given to her by family and friends.
Helen was very loved and will be missed deeply by all. If you wish, donations can be made to the local animal shelter or the Salvation Army. No services are planned.