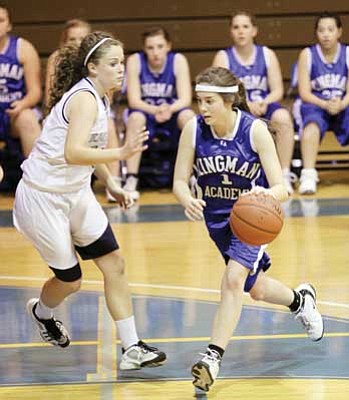 Originally Published: March 14, 2010 6:05 a.m.
KINGMAN - Director voting and feedback from schools' coaches and athletic directors in the Charter Athletic Association has resulted in Kingman Academy's Jordan Book being named Player of the Year in Class A girls basketball. There was serious competition for the award, with five girls in contention.
"The one thing that separated Jordan was her ability to be a leader on the court, and the respect she showed toward other athletes," CAA commissioner Randy Baum said. "We never once witnessed or heard about unsportsmanlike issues with her. The CAA feels that Jordan Book is the type of athlete that the CAA can be proud of, and we're honored that she competed in the CAA."
The award took the junior point guard by surprise, and even shocked her, when she found out by text from teammate Kaylee Mueller at the CAA All-Star Game. Book didn't attend the game because she had to work.
"I didn't think I was that good," Book said. "My team makes me look good. Without them, it wouldn't have been possible."
KAHS fell in the state championship game to Queen Creek EVAC 38-37 in overtime, and Book said the prestigious award has helped heal the wound inflicted from that loss.
"That's going to stick with me my whole life," she said. "Our goal was to take state, but we really wanted to beat CPA."
CPA, Chandler Prep, had ended the Tigers' season in Book's freshman and sophomore years, and KAHS wanted to get past them. The Tigers did that in the semifinals with a 39-29 win, but it may have taken a toll on the team.
"After we beat CPA, it was kind of hard to get pumped up again," Book said.
KAHS coach David Scroggins knows he has a legitimate player in Book and expects her to step up her leadership role on the team next season. It's possible that Book will face tremendous pressure in her senior season as the returning Player of the Year, but she plans on rising above it.
"I don't think I'll have pressure," she said. "At state and everything, you have pressure. But it will push me to work a lot harder over the summer than I ever have to get better. I just play basketball."
More like this story