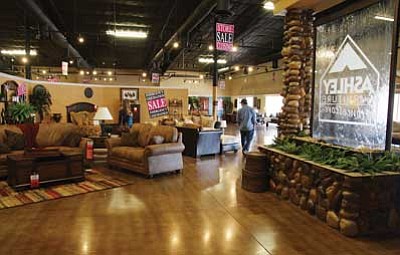 Originally Published: March 15, 2010 6 a.m.
KINGMAN - Less than two years after it opened its doors, the Ashley Furniture store at 4290 Stockton Hill Road is closing up shop, the latest victim of a floundering economy.
The store started its final clearance sale at 10 a.m. Saturday with the help of Joan Evans of SPCI Companies, a management consulting and liquidation firm specializing in the furniture industry. According to Evans, the store closure was brought on by a cut-and-dry case of poor economy combined with a depressed housing market.
"The economy, that's just pretty much it in a nutshell," Evans said. "It's a very sad thing for this community and for the owners, that goes without saying."
Owners Larry and Linda Hutchinson were unavailable for comment by press time, but Evans was quick to note that their second store in Lake Havasu City will remain open, though it will temporarily match the discounted prices at the Kingman store as it liquidates its inventory.
"Right now we're lowering some prices and resetting the floor," Evans said Friday. She added that the Kingman store does not have an official closing date, and will only shut its doors once everything is sold off.
"It's such a beautiful store," she said. "All the customers I speak with are just devastated."
Ashley Furniture is expanding its hours through the sale, and will be open from 10 a.m. to 7 p.m. Monday through Friday, 10 a.m. to 6 p.m. Saturday and noon to 5 p.m. Sunday.