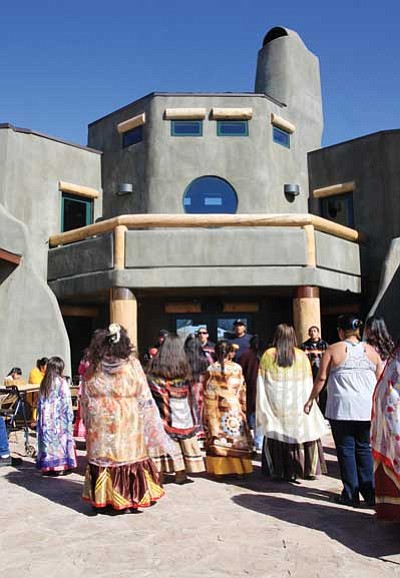 Originally Published: March 17, 2010 6:06 a.m.
KINGMAN - The Hualapai Indian Tribe celebrated the grand opening of the new Hualapai Cultural Center in Peach Springs on Friday.
According to Loretta Jackson-Kelly, director of the Hualapai Department of Culture, the project began in 2002. Several grants were applied for and received, including a $900,000 Indian Community Development Block Grant, for the 6,000-square-foot building that would ultimately cost $1.3 million to build.
Phil Entz of Urban Tech and Jack Ehrhardt were project managers. Straightline Builders, Inc. and Catalyst Architecture, LLC helped build the center.
Each room of the two-story building is unique and features space for a library, lab work, office space and more.
Several hundred people attended the ceremony, including people from other tribes. There were dances, speeches, a color guard ceremony and a ribbon-cutting, as well as several drumming, dancing and singing demonstrations from tribal members.
Bird Singers from the Hualapai tribe and other tribes, including people from California, sang during the ceremony.
The Hualapai Cultural Center will be used to preserve and educate about the Hualapai culture. It will be open 8 a.m. to 5 p.m. Monday-Friday.
"We now have our own cultural center and can do activities related to our traditions. It reinforces being productive, teaching language, cultural arts and having facilities for children to learn traditional practices," Loretta Jackson-Kelly said.
"We want to carry on this momentum of instilling in our children their cultural identity. We want to see a museum and library so everyone can benefit from preservation of past cultures and the historical significance of the Hualapai Tribe.
We still survive. Our aspirations for the future include taking the past (and) filtering it through today. That enables us to work on where we want to be in the future."
Kelly-Jackson also expressed the hope that all "American people should appreciate and support what we're doing today. We're one of the first original peoples of the Americas. It's part of what makes America what America is."