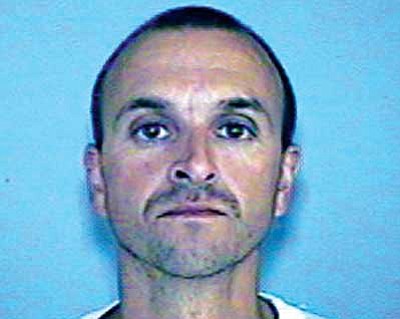 Originally Published: March 18, 2010 6:01 a.m.
KINGMAN - A serial bank robber who faced 220 years in prison if convicted at trial will instead go away for more than two decades under terms of a plea agreement with prosecutors.
Victor Jay Malaro, the 41-year-old Golden Valley man responsible for several bank and business armed robberies in Bullhead City, Golden Valley and Kingman from October to December, pleaded guilty Tuesday to seven felony indictments.
Terms of the agreement call for Malaro to receive 26 years in prison, including 21 years for the robberies and five years for shooting a 19-year-old clerk in the foot while robbing the King Tut's mini-mart on Highway 68 in Golden Valley Nov. 9.
In exchange for avoiding the expense of a trial, prosecutor Jace Zack agreed to drop charges against Kari Lyn Santa Rosa, Malaro's former sister-in-law, and Tabitha Faye Bailey, the mother of one of his children.
Santa Rosa was arrested on charges of hindering prosecution and prohibited possession of a firearm, while Bailey faced charges of providing false information to law enforcement during investigations into Malaro's whereabouts.
Officials say the women were not involved in the actual commission of the robberies.
Malaro was arrested Dec. 3, four hours after he used a fake explosive device to steal more than $17,000 from the Mohave State Bank on Stockton Hill Road in Kingman. The money was recovered when he was found by a Mohave County Sheriff's K-9 after attempting to bury himself into the side of a hill behind the Chevron station on W. Beale Street.
Malaro was arrested the same day a letter addressed to the lead detective in the case arrived at the Sheriff's Office.
In it, Malaro said he was not violent and that he knew it was a matter of time before law enforcement "pull your heads out of one another's pants and get all serious."
Malaro's attorney Robin Puchek said Malaro was shooting at the floor when he struck the clerk in the foot during the commission of the King Tut's robbery.
Malaro was also charged with the robberies of the National Bank of Arizona in Golden Valley Oct. 16, the robbery of the National Bank of Arizona in Bullhead City Nov. 18, the attempted robbery of the Xtreme Sportswear store in Bullhead City Nov. 23 and the robbery of the Healthy Habits food store in downtown Kingman that same day.
Malaro used a silver derringer in all but the Mohave State Bank robbery.
Malaro will be formally sentenced by Judge Rick Williams April 12, at which time his family members will speak on his behalf.