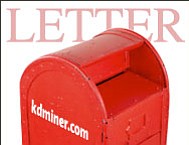 Originally Published: March 22, 2010 6:01 a.m.
The CASA Council Helping Children wishes to thank the Soroptimist International of Kingman for their more than generous grant. This generous donation will help fund the needs of foster children whose opportunities have been drastically reduced due to cuts in the state budget. These children's lives have been filled with poverty, discrimination, domestic abuse and sexual violence.
This contribution will provide some normalcy in their lives by funding extracurricular activities. These activities will raise their self-esteem, enabling them to dream of a better life.
Again, the CASA Council thanks each and every one of the women of the Soroptimist International of Kingman. You will be making a great difference by providing the resources to help rebuild the lives of our foster children.
Ron Stephan
CASA Council Board of Directors