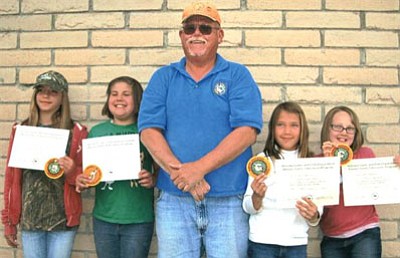 Originally Published: March 24, 2010 6 a.m.
KINGMAN - The Arizona Game and Fish Department's Hunter Education program graduated 28 students during ceremonies held Sunday at the Mohave Sportsman Club's 7 Mile Hill range.
The 28 students ranged in age from 9 to 46, according to Page McDonald, one of the team of 10 certified volunteer instructors who taught during the class. The students graduated from the demanding 34-hour, two-weekend course after demonstrating their knowledge of Arizona rules and regulations regarding wildlife along with safe firearm and bow handling. Students also participated in live fire exercises during field day, utilizing 22 rifles and archery equipment.
Besides classroom activities, the students also participated in several simulated hunt exercises, a tracking exercise, and demonstrated their knowledge on how to safely cross fences. They also had to be proficient in identifying firearms and ammunition. The 19 youngsters and nine adults in the class then had to take a final 50-question test.
There were four students chosen by the instructor staff to receive an honor graduate designation. Students selected as honor graduates included 9-year-old Kadence Sterling, 10-year-old Riannon Inman, 9-year-old Shaunti Short, and the top honor graduate of the class was 12-year-old Taylor Olivas.
Inman also won a striper fishing trip at Lake Mead with the chief instructor with her parent or guardian after being selected in a random drawing for the "Good Student" award. Olivas also won a striper fishing trip as part of the top honor graduate honors. Also winning striper fishing trips on Lake Mead with the chief instructor were Kristopher Arbuckle and Andrew Glover.