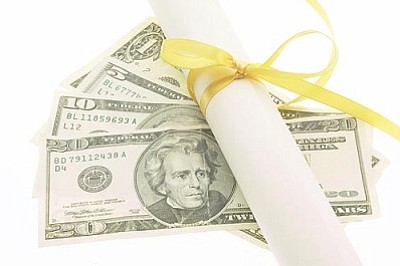 Originally Published: March 25, 2010 6 a.m.
KINGMAN - The House of Representatives' passage of a comprehensive healthcare reform bill has been making the biggest headlines this week, but that wasn't the only piece of major legislation to come out of Sunday's historic vote.
Alongside the healthcare bill, the House also passed a major restructuring of the nation's college loan system that proponents claim will allow students to save hundreds of millions of dollars in fees and interest payments, and will also provide as much as $36 billion in new funding for federal Pell Grants.
And it's news that has Mohave Community College President Dr. Michael Kearns excited as to the future possibilities.
"It means quite a bit. That funding is being sent directly to the community college and the student so they can access higher education," he said. "There are also components for all community colleges to increase programming - there'll be money coming for academic programs that are targeted for putting people back to work."
At its core, Kearns said, the bill will effectively end subsidies to private lenders through the Federal Family Education Loan program, which grants federal loans to students using private banks as the lending institutions.
"Basically, the FFEL was private lenders, and they were the ones that administered the loan and gave the money directly to the student, and they made profits off of that," Kearns said.
"The banks would lend the money to the student, the student would qualify for the loans. They would borrow it and have to pay the bank's fees and interest."
What the Obama administration has done, Kearns said, has been to cut the private lender out of the equation and provide loans directly through the federal government. By doing so, he said, students will save millions each year on fees and bank-set interest rates, which will in turn free up more money to be lent out so more students can attain their educational dreams.
"Students will have more money to borrow at a cheaper rate," he said. "So, students who wouldn't have been able to go to college now will have access to those dollars."
That part of the legislation will likely have little impact on MCC itself, Kearns said, since the college switched from FFEL to a direct loan system two years earlier. But he added that the new loan structure will make it easier for MCC graduates to transition to outside universities and vice versa.
"They're already used to the system, and all the other colleges will now be using the system."
Another benefit of the legislation will be the extension of federal Pell Grants to be spent year-round, which Kearns said will allow many MCC students to apply more time toward school and less toward working to pay for school. It will also provide for more students to attend MCC over the summer, which could produce more graduates in a shorter amount of time.
"There will be more students year-round getting through their degree sooner," Kearns said. "In our particular case, a student would be able to finish an associate's degree in a year and a half rather than two years. So, it's accelerating the cycle."
The legislation will also provide up to $4 billion in funding for new educational programs at both historically black colleges and community colleges. Kearns said it's still far too early to tell how that money might ultimately be divvied up, though it will likely take a cue from the American Recovery and Reinvestment Act, where individual states and cities would submit program ideas as requests for funds that would then be either approved or denied.
"It will be targeted to academic programs and job creation. It won't be 'Here's some money, go do this,'" Kearns said. "It'll be a competitive process where we have a program we want to put in place and we have to apply for it."
Kearns said the college already has some program ideas currently in the development process, though he stressed that until more details emerge in the next few weeks, it would be premature to assume any of them will end up being funded by the new legislation.
"It's really too early to say what we'll be able to do, since there will probably be limitations to how we can use it," he said.