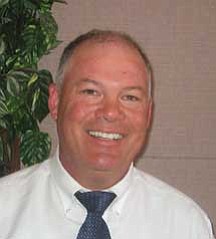 Originally Published: March 26, 2010 6 a.m.
KINGMAN - With just three weeks to go before formal city budget talks begin, Mayor John Salem and several of his City Council colleagues sought to explain before a town hall audience exactly what they're up against.
Meeting in the art gallery of the Beale Street Brews coffee shop downtown, Salem, Vice Mayor Janet Watson, Councilman Ray Lyons and City Manager Jack Kramer discussed some of the challenges they'll face in the coming fiscal year, as well as some of the successes they hope to continue.
As in years past, Salem said the preliminary Fiscal Year 2010-2011 budget is based on extremely conservative revenue projections, both from the city sales tax as well as anticipated state-shared revenues.
In fact, he said, the coming year's budget is projected to shrink down to 2006 revenue levels.
"W already know there's going to be a reduction of $821,000 that we will not see in this year's budget, just due to a lack of sales (statewide)," Salem said. "We're already experiencing ups and downs with our sales tax revenues, and the state hasn't been very prompt in their payments, as you well know, because of their budget issues."
Less money to work with
Between cuts in state-shared revenues and the city's share of the state and Powerball lottery moneys, Salem said the city is set to work with about $1 million less than it had for FY 2009-2010.
And while $1 million might seem like a drop in the bucket compared to the statewide deficit of $1.5 billion, Salem said that when the amounts are adjusted for scale, it's just as significant an impact on the city as the $1.5 billion shortfall has been to the state.
Salem added that, if the state decides to cut state-shared revenues to cities even further, Kingman could be "in big trouble."
Based on the state's actions so far, Salem said such cuts don't seem likely, though they will probably hinge on whether or not voters agree to pass a 1-cent sales tax increase on the May ballot.
"We're pretty confident that, if that does pass, hopefully, the state won't be looking at making cuts to any more of our state-shared revenue," Salem said.
Street maintenance could take a big hit
While the budget process is still ongoing, with Kramer spending much of this week interviewing department heads and searching for ways to make additional cuts, Salem said he was confident the city would be able to continue to provide all the same public health and safety services in the new fiscal year that it does now, though certain areas, particularly street maintenance and upkeep, are all but certain to suffer from lack of available funds.
"I just don't see any money for maintenance," Kramer said. "All I can see is that we'll have enough out there to sweep the streets and keep the lights on."
Watson noted that the city had done a good job of reducing its overall workforce through attrition while still keeping nearly all existing city employees, shuffling them from one position to another as needed and generally making the city workforce operate much more efficiently than it did four years earlier.
These efforts were acknowledged by local citizen and frequent Council critic Loyd Petersen, but Petersen said he was troubled that the city would continue to keep dozens of its unfilled, unfunded positions on the books.
Eliminating unfunded jobs
Instead, Petersen argued, the city would be better served by eliminating unfunded positions and bringing the city workforce size back to what it was around 2004, before the city hit a period of frantic mid-decade growth brought on by the booming housing market.
That way, once the economy does recover, the city will have extra money for capital projects, with less temptation to spend it on new employees.
But Watson argued that numerous programs and responsibilities exist now that did not exist in 2004, including new parks, the KART system and an expanded golf course. Parks and Recreation in particular, she said, now has many miles more landscaping to manage than in 2004 or even 2006, and to scale that department back to pre-boom levels would simply not work.
But Salem acknowledged Petersen's concerns and said that nothing is stopping Council from eliminating some positions if they remain vacant for another few years and still don't demonstrate any essential need to be there.
Council candidate Dick Anderson seized on Petersen's comments, arguing that Council should look at conducting a needs analysis of the city's workforce to determine how the workforce should be structured to meet needs such as economic development and improved energy efficiency.
He added that Council should also consider hiring an energy conservation specialist to look at providing city buildings with low-cost ways to make more efficient use of electricity. Rather than focus on big-ticket measures such as solar and wind installations, however, Anderson argued that there are numerous measures, such as better insulation, that could pay themselves off in as little as a year.
Anderson's comments drew some pushback from Salem, who argued that the city already conducted a needs analysis in 2004 that went over each department. But Anderson retorted that as times change, so do each department's needs, and that the needs of 2010 are not necessarily the same as 2004. He also pushed for funding the new Economic Development and Marketing Commission "at a reasonable level" after Council committed to creating it late last year.
Unfunded budget items
Kramer said several positions including a proposed economic development director and a public information officer would be given unfunded line items on the 2010 budget when Council goes to discuss it April 12. In addition, he said, EDMC would also appear on the budget with partial funding of about $38,000, more than $100,000 less than what the commission has requested.
Kramer said that the budget Council would be presented with in April would be a balanced one, and that Council may choose to fund some of the newly proposed positions, but if it does, that money would have to come from somewhere else.
"That's the decision the Council will have to make," Kramer said.
Another resident, Gene Lehr, who was featured in the Miner several weeks ago for wanting to establish a "quiet zone" along Kingman's downtown railroad crossings, again brought the issue up, asking Council whether they might fund such an initiative. Salem said Lehr's request had been placed on the $250 million capital improvements wishlist, which was at least a start, though the project itself might still go unaddressed for years before the city can find the hundreds of thousands of dollars it will take to research and implement. Salem added that three similar zones in Flagstaff cost that city nearly $1 million.
Salem conceded that the recently raised 4-percent hotel room tax might go to fund a quiet zone eventually, but the city would first have to consider whether any other projects should take priority. He agreed with Lehr that a quieter downtown might attract new tourist and hotel revenue.
Harley Pettit, president of Residents Against Irresponsible Development, praised the Council for "saving this town" through its conservative budgeting. Cutting positions while still keeping everyone employed, he said, was an "outstanding" achievement.
But Pettit also noted that much of the success has come thanks to the efforts of volunteers such as himself, who have taken it upon themselves to do smaller tasks, freeing Kingman's police and firefighters to tackle more substantial calls. Salem agreed, adding that the city often takes its volunteers for granted.
"The volunteer spirit in Kingman is amazing," Salem said.