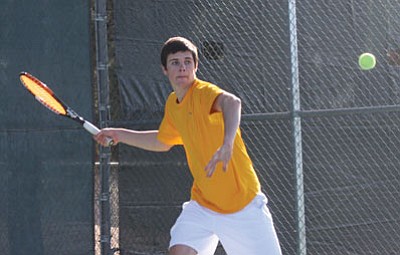 Originally Published: March 28, 2010 6 a.m.
KINGMAN - After splitting the six singles matches with Deer Valley Friday in Glendale, the Kingman High boys tennis team took two of three in doubles to beat the Skyhawks 5-4 in a pivotal Northwest Region match. The win by the Bulldogs was their fourth in a row.
"It's great to get a win at Deer Valley," KHS coach Ken Stalsberg said. "Last year, we lost two close matches to them that came down to the final doubles match. We turned the tables on them because of our concentration on doubles play in practice."
Cody Schoonover remained undefeated in singles this season with a 6-4, 6-4 win at No. 3 for KHS (5-3). Sam Martin and Brett Nailor also won in singles over Deer Valley (2-7).
No fear
"Sam is getting better and better," Stalsberg said. "There's not one ounce of fear in him at the net."
Jon Casson and Zach Hiatt won at No. 1 doubles 8-4, and Martin and Nailor were victorious at No. 3, 8-2.
KHS took down Surprise Valley Vista 9-0 Tuesday at Centennial Park. It was the first match for Casson since he injured his back in February, and his presence at No. 1 has his teammates playing in more natural positions.
"It takes tons of pressure off me," said Hiatt, who played No. 1 in Casson's absence. "We do coordinate well in doubles. If I'm not making my shots, he's making his."
Home debut
When Casson was out, KHS fell to O'Connor (7-2) in Phoenix, 5-4. His return has the Bulldogs thinking they can turn things around on the Eagles when the two teams meet at 3:30 p.m. Tuesday on the new courts at KHS.
"We lost a heartbreaker to them, and we are looking for a little revenge," Stalsberg said. "The team is really looking forward to our first match on our new home courts."