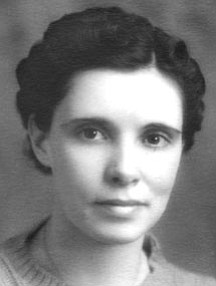 Originally Published: March 30, 2010 6:01 a.m.
Angela Helen Thomas passed away at home on Wednesday, March 24, 2010. She was almost 96 years old.
"Angie" was born March 30, 1914, in Gunnison, Colo., to Maurice and Rose Formaz who immigrated to the United States from Switzerland. Angie's life of hard work and self-sacrifice began at the age of 11 when she took employment at a ranch. She started at the ranch to help support her family because her father was killed in a railroad accident.
Angie graduated from Gunnison High School in 1932 and attended Western State College as an English major. She also went to work for Bell Telephone as a phone operator during this time.
Shortly after graduating high school she met her future husband of almost 70 years, A. Joe Thomas. The couple attended several dances together. After dating on and off, the couple married on June 16, 1940.
The Thomas' started their family in Gunnison. Joe's work in mining guided them to move to New Mexico. They resided in several different towns in the state before returning to Gunnison, where they started Thomas Trailer Court. Mrs. Thomas managed the 25-space court while Joe was working in addition. The couple also began Joe's Liquor Store concurrently with the trailer court.
Mrs. Thomas enjoyed a variety of outdoor activities with her family, including hunting, fishing and camping. She was a member of the Gunnison Pioneer Club. Angie remained active in all of her children's school functions. Playing the piano was one of her talents.
The family moved to California in 1963 and remained there for the next three years.
In 1966, she moved to Kingman where she would reside for the next 44 years. After their retirement, the couple also lived in their summer home in Koosharem, Utah, where they enjoyed the great outdoors.
Angela is survived by her husband, Joe of Kingman; brother, Lewis Formaz of Gunnison; sister, Alzena (Wes) Heying of Kansas City, Mo.; daughter, JoAnne (Wayne) Burns of Cheyenne, Wyo.; son, Jack (Iva) Thomas of Spring Creek, Nev.; daughter, Patricia (Jim) Jordan of Wilsonville, Ore.; daughter, Judy Walker of Kingman; grandchildren, Trisha Rudy, Gary Burns, Scott Burns, Janet Wetzel, Eric Burns, Byron Burns, Tom Thomas, Connie Lynch, Kevin Jordan, Jill Raymond, Melissa Walker and Edward Walker. She is also survived by nine great-grandchildren and five great-great-grandchildren.
She was preceded in death by her parents; one sister, Victorine Osborne; and her great-granddaughter, Melissa Burns.
She will always be remembered by her kindness and her strong love for her family. Those surviving will miss her dearly.
More like this story