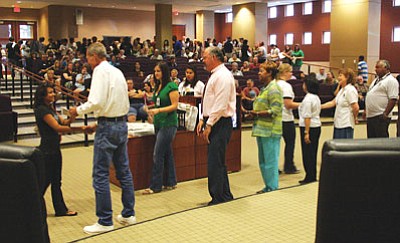 Originally Published: March 31, 2010 6 a.m.
KINGMAN - Congress' two-week vacation has left the Mohave County COYOTE (Coalition Youth Team) program in a lurch.
The eight-week summer job program teaches local low-income youth between the ages of 14 to 21 job skills training and experience. Congress did not approve its annual summer jobs bill before adjourning for its vacation last week. Without the federal funding, the COYOTE program will have to drastically reduce the number of youth it can help, said Mohave County Workforce Development Manager Jen Miles.
Last year, the program was able to assist 200 youth with the help of federal stimulus funding, she said. If the summer jobs bill doesn't pass, the county will have to cut the program to 50 youth.
"We already have more than 200 applications for the Kingman area and are getting more everyday," Miles said. "We've got our fingers crossed. We think it (the bill) may pass, but you can't bank on that."
Miles is hoping that local residents and businesses may want to help out by donating to the program. It costs about $2,000 to sponsor a youth through the program, but any donations are welcome, she said.
Donations can be sent to the Mohave County COYOTE program c/o Mohave County Community Services Department, P.O. Box 7000, Kingman, AZ 86402.
For more information on the program, call (928) 753-0723, ext. 4338.
The date to apply for the program in the Kingman area has passed, and new applicants are currently being put on a waiting list, Miles said.