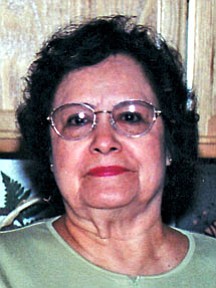 Originally Published: March 31, 2010 6:01 a.m.
Isabel Halsey, age 79, passed away peacefully in her home in Kingman on Wednesday, March 24, 2010.
Isabel was born on Sept. 8, 1930, in Williams to Torivio and Margarita Bravo.
Isabel is loved by many and will be greatly missed. She is survived by her husband, Jack Halsey; daughters, Betty Cannon and Marie (Joe) Urena; sons, Jack (Kathy) Halsey Jr. and Andy (Dawn) Halsey; 15 grandchildren; 16 great-grandchildren; two great-great-grandchildren; one sister, Juana Garibay; and two brothers, Phillip and Robert Bravo.
Services will be held at 2 p.m. Saturday, April 3, at the Kingdom Hall of Jehovah Witnesses at 4335 Stardust St., Kingman.