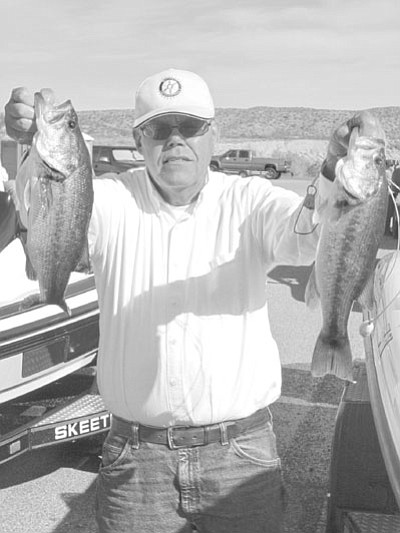 Originally Published: March 31, 2010 6:01 a.m.
KINGMAN - Proving that pre-fishing does pay off, the team of Kingman resident Art Fuller and Meadview resident Norm Montgomery easily won the Kingman Bass Club's recent two-day bass tournament at Alamo Lake.
Fuller said he got to the lake on Wednesday, three days before the tournament started, but didn't go fishing until Thursday. He said he fished alone on Thursday and found a cove that seemed to be loaded with fish. He caught one that weighed 3.37 pounds. "I figured out that there were probably a lot of fish in that cove, so I left," Fuller said.
On Friday, Fuller and Montgomery pre-fished together but decided not to go back to the cove Fuller had found. Instead, they checked out some other areas and did find some bass.
Roger Miller and Lee McElwee finished the tournament in second place with 15.98 pounds of bass. Miller caught the big fish of the tournament on Sunday, a lunker that weighed 3.52 pounds. Fuller and Montgomery discovered that the "secret" cove Fuller had found was still producing fish. They had a two-day total of 19.93 and earned the win.
The club's next tournament will be April 17 on Lake Mohave, with a pre-tournament meeting April 14 at the Arizona Game and Fish Office, 5325 N. Stockton Hill Road. The meeting starts at 7 p.m.