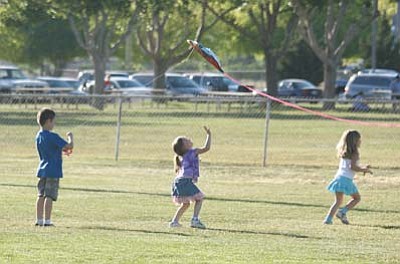 Originally Published: May 3, 2010 6:01 a.m.
KINGMAN - Dozens of kites will scrape the sky during the Kingman Daily Miner's 20th Annual Kite Day Wednesday at Centennial Park.
The Miner will supply kites to kids that afternoon from 3 to 6 p.m. More than 100 kids and their parents attended the event last year, according to Miner Advertising Manager Colleen Machado.
The day began more than two decades ago as part of Kingman Unified School District's "No TV Week." Machado said the afternoon provides a way for families to break away from television, computer and video games screens to enjoy an outdoor activity.
"It's fun to see the little kids running around," she said. "A lot of them, you can tell it's their first time flying a kite."
DARE officers along with several other agencies are also expected to attend. The Elks Lodge, Safeway and True Value will provide hamburgers and hotdogs for participants.
The event will take place at the #2 pavilion near the basketball court.