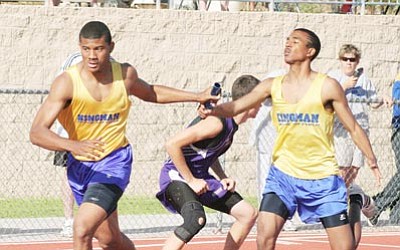 Originally Published: May 5, 2010 6:01 a.m.
KINGMAN - The stage is set for the Kingman High boys and girls track teams as the Bulldogs open the Northwest Region Meet today in Glendale. If more than three Bulldogs are going to qualify for state, this is the week to do it.
"We should get some qualifiers," KHS coach Anne Bathauer said. "And we should get some definite at-larges."
After the qualifiers for state are accounted for, if there are any slots open, then the Arizona Interscholastic Association will use the next fastest times, longest distances or highest jumps to fill up the meet.
KHS enters the region meet after both squads took fourth place in the 21-team Winslow Invitational Friday. Tanisha Karn joined Willie Valdez and Dominique Hale as automatic state qualifiers when she won the discus with a throw of 106 feet, 18 inches further than the qualifying mark.
Karn also took third in the shot put and enters the region meet as the No. 2 seed in that event. Only teammate Lindsey Reed is seeded higher.
Paige Cardiff shined for KHS in winning the 3,200-meters and coming in second in the 1,600 and 800.
"Paige is on top of her game," Bathauer said. "She dominated the 3,200 in Winslow."
Bathauer sees the Bulldogs scoring a lot of points at region. Karn and Reed are expected to come through in the throws, Amber Williamson and Ruth Bushman should score in the hurdles, and those two along with Hale should add points in the jumps.
"Anything can happen on the girls side," the coach said. "O'Connor is pretty full in every area, but we'll give it our best try."
The 4x100 relay team for the boys - Kameron Comins, Trey Anthony, Jesse Hollingsworth and Brennan Cruz - set a new school record at Winslow with a time of 44.89.
"They've got some confidence in sprinting," Bathauer said. "They should be mentally ready because we've been successful against the Phoenix teams this year."
Bathauer expects the boys to score points in the 1,600 with David Haun and in the 3,200 with Jesse Peterson.
"Those boys have a chance to qualify by time," she said. "We should be able to score some points."
While the girls team is expected to shoot for the top at the region meet, Bathauer said it's about getting the boys a decent showing so they come back next year motivated to make a run at a region title.
"The future of the boys program is an exciting time right now," the coach said. "These kids are good and work hard. What a great season to start off as head coach."