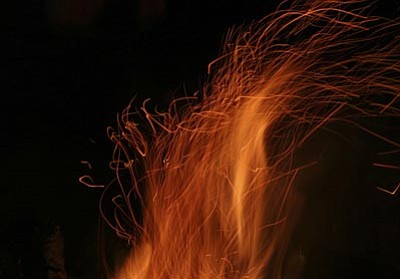 Originally Published: May 12, 2010 6:01 a.m.
KINGMAN - Officials say two people were lucky to avoid serious injury after they escaped a fire despite there being no working smoke detector in their home.
The adult man and woman were awakened by a noise shortly after 2:30 a.m. Tuesday to find their home in the 2300 block of Harrod Avenue filled with smoke.
When units with the Kingman Fire Department arrived, they found smoke and flames coming from the rear of the residence.
The two occupants, a man and a woman, had already gotten out of the home by the time firefighters arrived. Both were transported to Kingman Regional Medical Center to be treated for smoke inhalation. Battalion Chief Bill Johnston said the 38-year-old woman, who was six months pregnant, was treated more as a precautionary measure.
Firefighters were able to contain the fire to the laundry room, where it was believed to have started. While the cause of the blaze is still under investigation, it is believed to be accidental.
Johnston said the majority of homes and businesses they respond to are outfitted with smoke detectors, but that there is still a segment of the population living in older structures without them or those who use battery-powered detectors that aren't properly maintained.
The Kingman Fire Department offers free smoke detectors for low-income and elderly individuals. For more information, stop by the administrative building at 412 E. Oak Street or call (928) 753-2891.