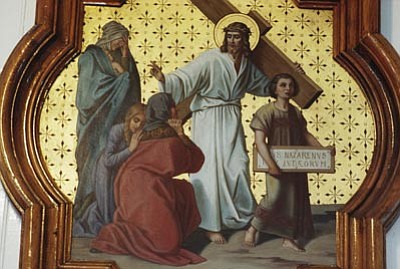 Originally Published: May 12, 2010 6:01 a.m.
GOLDEN VALLEY - One Golden Valley man wants to bring the church back in line with its mission. Mark Armstrong believes that Christian churches have become more like businesses and less like places of worship or places where the needy can find help.
He is working on starting a church, the Golden Valley Fellowship, in Golden Valley.
"I want to get back to the basics," he said. Armstrong's goal is not only to provide a place for people to worship, but also a place where those in need can come, and without filling out paperwork or answering endless questions, receive food and the necessary supplies for daily life. "A warehouse of needful things. Something like a thrift shop, but at no cost to those in need," he said.
Too many food banks or charity organizations place too many restrictions on how many times a person can ask for assistance or lock out people who make too much money, Armstrong said.
"I don't care if they come everyday. It's not up to us to decide who is needy enough. There shouldn't be restrictions placed on people. They shouldn't have to prove a need or their income," he said.
Armstrong takes his inspiration from the fourth chapter of the Book of Acts in the Bible. The chapter states that early Christians sold all of their possessions and put the money they received from the sales in the hands of the apostles. The apostles then distributed the funds to followers according to each person's needs.
Besides creating a food bank and thrift shop, Armstrong would also like to create a program to help those suffering from substance abuse. He has already been in contact with the Christian Connection out of Las Vegas, which currently has a substance abuse program.
Armstrong also wants to partner with local Christian business owners to provide those graduating from the abuse program with a place to work and help instill a Christian work ethic.
"I want everyone to be included. This is what I feel called to do, not for me, but for anyone who has lost their way," Armstrong said. He has had his fair share of troubles and run-ins with the law, he said. It was only through the grace of God that he was able to clean up his life, apply for school and start the church, he said.
"I was either in or out of obedience with God and he let me know when," he said. "The Lord put this on my heart. He said, 'Go to Golden Valley and plant a church.'"
Right now, the church's only home is its Web site, goldenvalleyfellowship.org, which offers sermons through Armstrong has blog and has a place for residents to submit their prayer requests and testimony.
Armstrong's also established a bank account and the organization's non-profit status. He's pledged to keep the church's books wide-open to anyone who wants to see where and how donations to the church are used.
"Anyone can come to me and ask to see the books," he said.
He also promised to take no more than 10 percent of the cost of living for the area as his salary. He said he would hold the board of directors of his church to the same requirement.
Until he can locate a permanent home for the church, Armstrong has established a partnership with the River of Life Christian Gift and Coffee Shop on Bank Street in Kingman to collect and distribute necessary items to those in need. The coffee shop will also be the location of weekly Bible study class on Wednesdays.
Eventually, Armstrong would like to take the church and its mission to a global audience. His goal is not to create a mega church but to plant several smaller churches in communities around the globe.
Parishioners get lost in mega churches, he said. Armstrong wants the leaders of his church to know each one of their parishioners by name. If a church gets too big, then the organization will create another one.
"But in order to reach the world, we have to start here," he said. "The healing has to start at home. There are many people in this area that need healing. How can we expect to help others if we're not healthy ourselves?"
For more information on the Golden Valley Fellowship, visit goldenvalleyfellowship.org or call Armstrong at (928) 897-3767 or send an e-mail to goldenvalleyfellowship@yahoo.com.