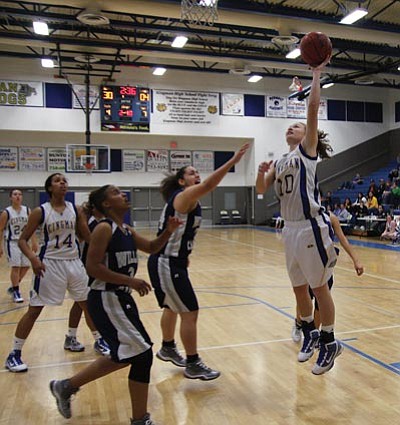 Originally Published: May 17, 2010 6:01 a.m.
KINGMAN - When the Arizona Community College Athletic Conference women's basketball season starts the 2010-11 season, there is going to be a touch of civil war for Kingman hoops fans.
Kingman High's Tesla Morgan has chosen to play for Yavapai College in Prescott, and Dominique Hale will wear South Mountain Community College's uniform in Phoenix. Yavapai (17-12, 15-7, 5th ACCAC) went 2-0 last season against South Mountain (11-16, 10-12, 7th ACCAC).
"It'll be a rivalry for us playing against each other," Morgan said. "That's going to be fun."
Added Hale, "We've been picking on each other this whole time."
Morgan gets a tuition-paid scholarship at the school where both her father and mother played.
"That's pretty cool," Morgan said. "I'm just carrying on the tradition."
Yavapai coach Brad Clifford said the system Morgan was in with the Lady Bulldogs and coach Danny Gonzalez should make the transition to the Roughriders an easy one for her.
"She will be able to pick up our type of defense," Clifford said. "She'll use her offensive skills within the framework of our offense."
Gonzalez said he moved both Morgan and Hale up to the varsity level when they were sophomores because he saw something special about them that would lead to stardom.
"They were instrumental in establishing the success of Kingman girls basketball," the coach said. "Tesla and Dominique have the talent and tenacity to play at the next level. I can't be any more proud of the two of them."
Hale won't just be wearing the Cougars' basketball jersey. She'll also be on the volleyball team, which went 13-13 and 9-6 in the ACCAC. Hale received a full-ride scholarship where she'll begin her quest for a major in premedicine.
"I plan to get my skills going well and get to a D-1," Hale said. "I'm keeping both doors open," in reference to playing volleyball and basketball.
South Mountain basketball coach Cassie Sawyer said she was excited to have Hale because she's a strong rebounder, plays defense and is a great athlete.
"Dominique will be able to play a multitude of positions with her quickness and leaping ability," Sawyer said. "She brings leadership and knowing how to win to our team."
Morgan and Hale are the second and third members of the 24-5 Lady Bulldogs who have moved on to play at the next level. Lindsey Reed signed to play for Idaho State in the Big Sky Conference.