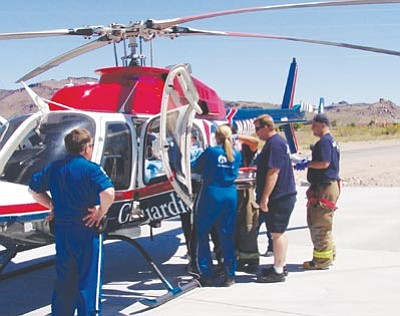 Originally Published: May 18, 2010 6:01 a.m.
KINGMAN - A 2-year-old Golden Valley toddler was critically injured in a fire Sunday morning that authorities say was started by the boy's 5-year-old brother.
Erik Glotkowski was airlifted to University Medical Center in Las Vegas with second- and third-degree burns after he was pulled from a burning motor home by his father in the 4335 block of West Imperial Road around 10 a.m. Sunday.
The toddler was playing inside the motor home with his 4- and 5-year-old brothers when the oldest boy began playing with a lighter and set fire to a mattress, according to Trish Carter, spokeswoman for the Mohave County Sheriff's Office.
The two older boys ran to get help after the fire started.
The motor home was parked outside of a home that served as the primary residence. At least one adult was inside the house when the fire began in the motor home.
Assistant Golden Valley Fire Chief Thomas O'Donohue said firefighters got a call about the fire at the same time the boys' father arrived at Station 13 with the toddler. The father had pulled the boy out of the fire.
By the time crews got to the motor home, it had already burned to the ground, O'Donohue said.
"Every emergency brings it's own dynamic to firefighters, however, when there is a child critically injured we all feel it even more personally because we see our own children in their eyes," O'Donohue said.
The Sheriff's Office is still investigating the incident but said that at this point no criminal charges are being considered.
More like this story