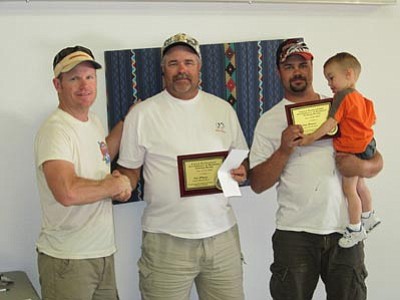 Originally Published: May 19, 2010 6 a.m.
KINGMAN - Some of the usual names were atop the leaderboard of the annual United Professional Firefighters tournament at Lake Mead last weekend, but the story was as much about the weights of the fish brought as it was those who took home paychecks.
In the largemouth/smallmouth division, the father/son team of Fred and Mark Proudfoot checked in 15 bass over the two days of the tournament to easily win this division by more than 6 pounds. The Proudfoots two-day limit weighed 17.70 pounds.
Second place was won by Ed and Ariel Walker. Their 13 bass weighed 11.60 pounds. Third place was won by the team of Mark, Bobby and Mike Olivas. The live well in their boat crashed, so some of the bass they brought in had died, and after penalties, their final weight was 10.60 pounds.
Had there not been any penalties, the Olivas team would have finished in second place with over 14 pounds.
The Olivas team checked in the tournament's largest bass, a lunker that weighed 2.80 pounds, but because that fish had died, a 1-pound penalty was assessed and the big bass winner was declared as Matt Wolsey who had a bass that weighed 2.65 pounds.
By comparison, last year's winners of the largemouth bass division checked in 15 bass that weighed 28.25 pounds.
The second place team had 25.75 pounds, while third place was won by the Walkers along with Ethan Esquibel. Their bag of bass weighed 25.75 pounds.
The big bass in the 2009 tournament weighed 5.25 pounds, and Rick Olivas checked in a lunker that weighed 4.9 pounds.
This year's winners in the striped bass division was Tim Flatt, Jack Ginkins and Edward Phillips who checked in a 40-fish limit that weighed 49.80 pounds. Second place was won by Robert Borker, Dan Winder, and Mike Erickson, whose 40-fish limit weighed 45.55.
Third place was awarded to the team of Mike Stapleton, Brian Knarr and Matt Wolsey. The team checked in 39 stripers that weighed 45.15 lbs. The story here was that this team had miscounted their fish, and actually did catch more fish and would have won second place had they brought one more fish to the scales.
Mark Proudfoot caught the tournament's largest striper, a lunker that weighed 3.50 lbs.
By comparison, in 2009 the first place team had 60.55 lbs, while the second and third place teams had 60.50 and 58.55 lbs, respectively. Johnny Hoeft had the big striper last year, a lunker that weighed 5.25 lbs.
In the catfish division, the team of Robert Dollarhide, Courtney Dollarhide and Terry Henry brought in nine channel catfish that weighed 13.20 lbs.
In 2009 there were 24 teams in the tournament, while this year there were 21, according to tournament director Dan Winder.
The next striper tournament is the annual Stripe-R-Rama event, which will be held on June 5th out of South Cove on Lake Mead.
Entries for this tournament can be found at Accurate Arms & Ammo, Banks Street Guns, On Target Enterprises, A&P Pawn and Wal-Mart. Entries can also be obtained by contacting tournament director Johnny Hoeft at 716-2616 or by e-mail at guidehunter@hotmail.com.