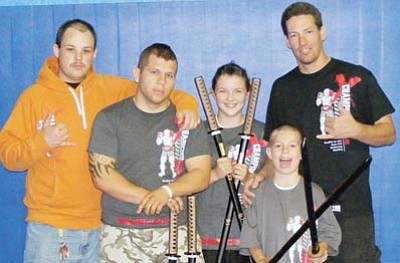 Originally Published: May 23, 2010 6 a.m.
KINGMAN - The Champion Fight Team out of Champion Athletic Club put together an impressive performance at the Desert Quest 48 Championships May 15 in Mesa. The team came away with five first-place finishes, one third and two fourths.
"We competed against some skilled grapplers and Brazilian Jiu-Jitsu specialists," coach David Alexander said.
A.J. Alexander, 8, and Orrin Lancaster, 21, both won first place in Gi Brazilian Jiu-Jitsu and no-Gi grappling in their respective divisions. Jessica Hurst, 12, took on a field of boys and took them down in Jiu-Jitsu for first, along with placing third in grappling.
Bradly Horn, 22, took fourth in grappling, and Alexander, 41, was fourth in both Jiu-Jitsu and grappling.
"We used this tournament as a warmup for our next event," Alexander said. "We will be grappling alongside professional UFC fighters and competing with the most talented grapplers and Brazilian Jiu-Jitsu practitioners from around the world."
Hurst, Horn and David Alexander, along with Hailey Krejci, 16, will be at the Grapplers Quest at the UFC Fan Expo May 28-29 at Mandalay Bay in Las Vegas.
"We're looking forward to being a part of this monumental event," Alexander said. "There will be 1,500 competitors, and last year there were over 30,000 spectators."
For more information about Champion Athletic Club, go to www.championathleticclub.com or call (928) 753-9500.