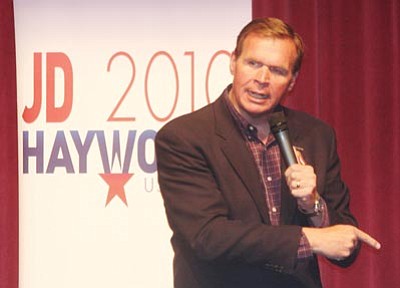 Originally Published: May 24, 2010 6:01 a.m.
KINGMAN - U.S. Senate candidate J.D. Hayworth used his smooth radio voice Saturday afternoon to rile Mohave County residents against not only his opponent, Sen. John McCain, but also incumbents on both sides of the aisle, President Barack Obama and the president of Mexico in a campaign stop at the First Assembly of God Church.
His run for McCain's seat was not a personal attack on the incumbent senator, Hayworth told the crowd of about 125 spread throughout the sanctuary. "After 28 years of service, I want to thank Sen. McCain for his service to this country and welcome him home," he said.
What Congress and the mainstream media don't seem to understand is that Obama's actions are putting the security of the U.S. as an independent republic at stake, Hayworth said.
The U.S. Constitution demands that the federal government not only guarantee a republican government for all U.S. citizens, but it also demands that citizens be protected from invasion.
"The security of the border is a federal responsibility and a constitutional mandate. A decade after 9/11, the federal government has failed to act to secure our border," Hayworth said. He thanked Arizona Reps. Nancy McLain and Doris Goodale and Sen. Ron Gould for voting for Arizona's new illegal immigration bill.
"Arizona waited and waited and waited some more for the federal government to do something about this, then they took the matter into their own hands," he said.
McCain has only added to the immigration problem, Hayworth said. McCain has pledged numerous times to do something and then worked to create a bill that would have granted amnesty to illegal immigrants. If McCain's bill had passed, according to the Heritage Foundation, it would have cost the U.S. more than $2.6 trillion in retirement benefits for all of the immigrants who were granted amnesty, Hayworth said.
"Amnesty is wrong. It's dangerous for our security and dangerous for our economy," he said. "The political left wants to shift this from enforcement to ethnicity."
Hayworth blasted Obama and Congress, saying it was nothing short of shameful to allow Mexican President Felipe Calderon to criticize Arizona for its immigration policy before the entire Congress and then applaud him for it.
He pointed out that the Mexican immigration policy is very stringent, that illegal immigrants in that country are thrown in jail.
Hayworth pledged to reintroduce his Enforcement First Act if elected. The act would require law enforcement agencies and the federal government to enforce the laws already on the books before adding more.
"You know what happens when you start to enforce laws?" he said. "People start to obey them."
Embracing lawlessness
When asked about recent comments from the head of Immigration and Customs Enforcement that the department would not accept immigrants arrested in Arizona, Hayworth said, "He's embracing lawlessness. Both he and Secretary of Homeland Security Janet Napolitano should resign."
If the federal government would just enforce the immigration laws already on the books, the illegal immigrants would start to deport themselves, Hayworth said. Maricopa County Sheriff Joe Arpaio proved that with his immigration sweeps, he said.
McCain's fiscal policy has also damaged the economy, Hayworth said. He was excited when during the 2008 election McCain flew to Washington, D.C. and called on Obama to join him and then President George W. Bush to fix the economic meltdown.
Instead of offering his own solution, McCain pledged to work to get Republicans and the public to support the bailout of the big banking companies, he said. Then McCain called the bailout obscene after the bill passed and he voted for it, Hayworth said.
The money that went to bail out the big banks should have gone to Main Street, he said.
When asked about Fannie Mae and Freddie Mac, the two government-sponsored mortgage programs, Hayworth said recent efforts by Congress had failed to deal with the problem.
What happened with the healthcare reform bill was not much different, Hayworth said. The whole bill could have been stopped in the U.S. Senate with a senator speaking four words as the clerk started to read the bill: "Mr. President (of the Senate), I object."
At that point the clerk would have had to read the entire bill, which was still being written by Rahm Emanuel, the president's chief of staff, Hayworth said. But the people in Washington are civil and subservient. The national media was making a big deal out of the fact that Obama had canceled his family's Christmas vacation to wait and see what happened with the healthcare bill, and members of Congress felt they had to do the same.
"If I was in the Senate, the Obamas would have found out what it was like to have Christmas at the White House," Hayworth said. "I will be there to stand and fight for what you believe in. I'm not going to mollify the media. I'm going to stand up for you."
Pledge signed
There are several Web sites calling for the repeal of the healthcare bill. One, repealitnow.org, even calls on congressmen to sign a pledge, Hayworth said. He's signed that pledge, McCain has not. McCain also hasn't signed onto the Healthcare Repeal Act proposed by some members of Congress.
Before taking questions from the gallery, Hayworth made one final pledge, "and the media can quote me on this: If you allow me to serve, I pledge that two terms will be enough," he said.
Term limits supported
Twelve years is a long time, he said, and he called for term limits not only on Congress but also on Supreme Court Justices and civil service workers. Doing so would bring some of the balance of powers back between the three branches of government, he said.
Hayworth received several questions from members of the audience about what he planned to do with the Federal Reserve.
An audit of the Reserve by the Senate is currently under way, he said. He was willing to wait to see the results, but felt that the organization needed to be changed to encourage its members to see their fiduciary responsibility and discourage greed.
Hayworth also called for a return to hard currency or the gold standard, where all of the money in the U.S. is backed by gold or silver.
He also opposes statehood for both Puerto Rico and Washington, D.C. He supports moving the United Nations out of New York City, perhaps to a Third World country, since so many seem to object so strongly to American views.
Hayworth completed his visit with a meet and greet Saturday afternoon at the old Elks Lodge in downtown Kingman.