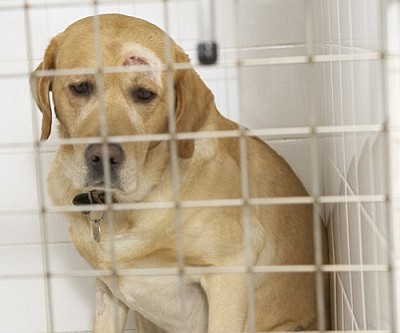 Originally Published: November 3, 2010 6:01 a.m.
KINGMAN - A Nashville, Tenn., man is looking for another place to relocate his animal rescue and build a training facility.
Cody Gosselin is originally from the Las Vegas area and still has friends and family in that area. The county music bug bit him in the 1990s and he moved to Nashville to satisfy the itch.
"But now I'm in my 50s, and I want to move back home," Gosselin said. But packing things up and moving to Las Vegas wasn't as easy as it sounds. Gosselin owns and operates Happy Endings Animal Rescue, a no-kill animal rescue and thrift shop.
Gosselin said his brother, who lives in Las Vegas and is familiar with Mohave County, recommended looking at the Golden Valley area.
Gosselin said he was eyeing a 40-acre area in Golden Valley until he received the packet of information he requested from the county. Included in the packet was a copy of the county's revised kennel ordinances.
The Board of Supervisors approved the revision of the Planning and Zoning, Animal Control and Environmental Health ordinances governing kennels on Oct. 4. The revised ordinances have several building, sanitation and care requirements that commercial and non-commercial kennels must follow.
County officials told Gosselin that he would need to install cement floors with a septic system and have an enclosed building for the dogs.
Cement floors aren't good for dogs, Gosselin said. Dogs get depressed on concrete and the material harbors disease.
Plus the expense of laying all of that concrete on top of trying to build the rest of the facility would be prohibitive, he said.
"I can't build something like that. It would cost me millions of dollars to do what they want me to," Gosselin said.
All he wanted to do was build an animal rescue with outside yards, an administration building and a facility to train people to become certified kennel technicians. He had plans to offer a low-cost spay and neuter program as well.
Gosselin said he tried talking to District II Supervisor Tom Sockwell about the requirements, and was told he was welcome to move to the area as long as he met all of the health, building, animal control and planning and zoning requirements.
"It was like talking to a brick wall," Gosselin said.
Now he's looking elsewhere, perhaps Nevada, Southern California or Parker - someplace where the regulations are a little more animal rescue-friendly, Gosselin said.