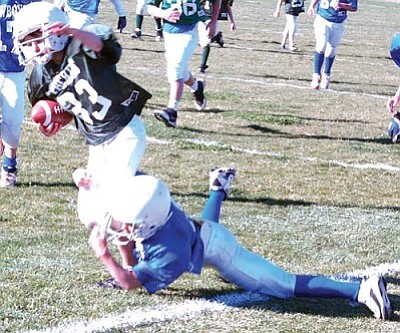 Originally Published: November 3, 2010 6:01 a.m.
KINGMAN - The Kingman Youth Football League regular season came to an end Saturday at Kingman Middle School with the Vikings going undefeated with a 5-0 record. The Vikings beat the Raiders 26-6 to remain as the only unbeaten team in the KYFL.
The Vikings led 7-0 at the end of the first quarter on a 50-yard touchdown run by Sean Sullivan. Jeremy Stewart ran in the extra point.
It was 20-0 at half after Brycen Hodges ran 52 yards for a score, and Stewart added another extra point.
Stewart found the end zone himself later in the second on a 59-yard touchdown run, but the PAT failed.
Neither team put points up in the third quarter, but they did trade touchdowns in the fourth.
Jacob Goodway scored on an 85-yard run for the Vikings, and Riley Araya of the Raiders (1-4) picked up six points on an 8-yard run. Both PATs failed, and the Vikings won.
In other games, the Packers defeated the Cowboys 12-0 in a battle of 3-1 teams. Doyle Hanson, Joseph Roe, Tristan Roe and Andrew Davis kept things close for the Cowboys on defense. Packer information was not reported.
The Chargers (1-4) won their first game of the season 25-7 over the Chiefs (1-4).
No further information was reported on this game.
The KYFL playoffs start at 9 a.m. Saturday at KMS.
KYFL FINAL STANDINGS
W L
Vikings 5 0 Packers 4 1 Cowboys 3 2 Chargers 1 4 Chiefs 1 4 Raiders 1 4
Saturday's Games
9 a.m. Playoff TBA
10:30 a.m. Playoff TBA
Noon Playoff TBA