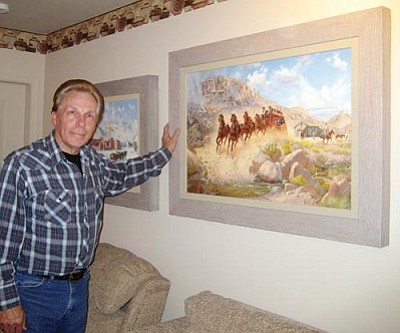 Originally Published: November 4, 2010 6:01 a.m.
KINGMAN - Fred Lucas has been painting the Grand Canyon State and its residents for more than 20 years. His paintings and sketches of cowboys and the Grand Canyon have hung in museums around the state, across the nation, in 30 different countries, the White House, the Arizona State Capitol, the Arizona Governor's Office, the El Trovar Hotel at the Grand Canyon, and now in the Mohave Museum of History and Arts.
Lucas has been painting in the Kingman area for the last year and a half and recently completed a painting called "Canyon Station Stage -1873." A print of the painting is now hanging in the museum and will be on display for the museum's annual wine and cheese tasting fundraiser this Friday.
The painting depicts a slice of Mohave County history. It shows a six-horse stagecoach rumbling away from a weigh station nestled in a canyon in the Cerbat Mountains near Kingman. The weigh station was part of a wagon trail that led from Mineral Park and other local mines to Prescott and other areas in the state.
Lucas was able to pinpoint the location of the old weigh station by comparing the rock formations in the canyon to old photographs from the museum. He has plans to paint Fort Beale and the Fort Beale Wagon Road as well.
Lucas has been painting or sketching since he was 5.
"My mother used to yell at me because I would use up all of my good school paper drawing all sorts of things," he said. "My dad finally cut up some paper grocery bags and stuck them in my room so I would have something to draw on."
His father continued to encourage his artistic skills and signed Lucas up at the age of 9 to study under the tutelage of a local artist.
"I think what impressed me most about her and really got me into art was the fact that halfway through her career as an artist she was suffering from rheumatoid arthritis," Lucas said.
The arthritis caused her a lot of pain and made it extremely difficult to paint. Yet, she continued to paint by weaving her paintbrush between the fingers of one hand and using her other hand to steady her motions, he said. Her dedication to her art is what stuck in Lucas' mind and encouraged him to continue to develop his own skills at the Famous Artist Schools of Westport, Connecticut. When he reached college, Lucas decided that he needed a second career.
"My mother was afraid I was going to starve to death as an artist. So I majored in engineering and minored in art," he said. He worked as an engineer for a number of years in Las Vegas and New Mexico and continued to paint and sketch on the side.
Finally in 1976, he couldn't stand it anymore, the call to paint became too strong, and he quit his job to start painting full time. "I had been showing some works in various galleries and almost everything had been selling within a few months. I thought, 'Hey, maybe I'm not going to starve doing this.' It took me months after I quit my job and started painting full time to sell anything. I thought, 'Oh my gosh, I am going to starve,'" Lucas said. But things soon picked up, and he has been able to continue his career with occasional help from collectors and investors.
Lucas paints using the Old Dutch Masters' Method. The method involves a special preparation of the canvas, several thin layers of paint and a finishing varnish that all increase the luminosity of the painting.
The method also involves a more realistic portrayal of a painting's subject, something that Lucas takes very seriously. Many of his paintings are of cowboys and ranchers that Lucas personally knows.
"I need to rework this, his stirrup is too short," he said pointing to an unfinished sketch of a cowboy on a horse. Lucas explained that the sketch was of a cowboy he knew. "When cowboys look at your art, they aren't looking to see if you're a good painter. They're looking to see if you got the details right, if you have the right stuff to paint a cowboy."
He also enjoys recreating historic scenes through his art. He enjoys the research that goes into each painting such as the one of the weigh station in the Cerbat Mountains.
Lucas has painted scenes from all over the West including Wyoming, California, Yosemite National Park, Grand Tetons National Park and Yellowstone. But his favorite area to paint is the Grand Canyon. He's painted the canyon from every rim and nearly every vista. His largest painting, a 12-foot by 25-foot mural, was of the canyon and hangs in the Grand Canyon Squire Inn in Tusayan.
"There is something about the atmosphere at the canyon. It's never the same twice. I keep finding myself drawn back to the area," Lucas said. He said the same about the Grand Canyon State. Lucas has lived and visited places all over the country, but he constantly finds himself drawn back to Arizona, he said.