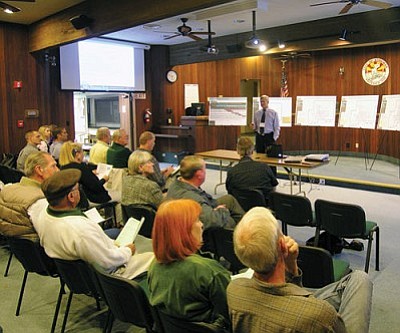 Originally Published: November 10, 2010 6 a.m.
KINGMAN - Three hundred million dollars. That's how much a consultant estimates it will cost to upgrade Kingman's roadways to handle the traffic loads the city could expect by the year 2030.
Bryan Patterson, a consultant with Kimley-Horn and Associates, led a question-and-answer session at city hall Monday evening, addressing the Arizona Department of Transportation's new draft plan for the Kingman area's long-term transportation needs. The plan, which proposes various street and service improvements over the next five, 10 and 20 years, was developed over the past eight months, with Monday's meeting the second of two designed to solicit comments and suggestions from the public prior to the draft's finalization.
Patterson explained that, with the Kingman metro area population expected to expand to more than 77,000 people over the next two decades, it was important that ADOT work with the public and the city to develop a long-term transportation needs analysis now. Displaying maps of the short-, mid- and long-range improvement plans, he demonstrated that Kingman will effectively have to expand and improve nearly all of its major thoroughfares, and quite a few side streets, in order to provide an adequate level of service by 2030, and even then, one stretch of road along Stockton Hill Road at Interstate 40 is still expected to exceed ADOT's ideal traffic level.
Patterson said that the short-term plan alone should cost roughly $30 million but would address some of the area's most immediate concerns. The key short-term projects, he noted, are located primarily along Stockton Hill Road, consisting of lane expansions and intersection improvements such as widening and implementing new safety features.
"We've identified three key intersections - Gordon, Airway and Andy Devine - those are three areas where there are opportunities to make those operate more efficiently and accommodate more traffic," he said.
"We're also looking at the prospect of additional raised medians to improve safety on Stockton Hill Road."
Patterson said the short-term plan also calls for bicycle and pedestrian improvements along Harrison Street/Willow Road and Gordon Drive, as well as efficiency improvements at the I-40 interchange on Beale Street and intersection improvements along Andy Devine Avenue. In the downtown area, the short-term plan also calls for "quiet zones" to be established at the two at-grade railroad crossings, with additional sidewalk improvements to accommodate the disabled.
In addition, the plan proposes raised medians along Andy Devine Avenue from Detroit Avenue to Airway Avenue and on Stockton Hill from Airway to Gordon, as well as a multi-use bike and pedestrian pathway from Hualapai Mountain Road to Louise Avenue.
The mid-range plan gets more ambitious. It includes the construction of both the Kingman Crossing and Rancho Santa Fe interchanges, as well as the establishment of a Kingman Crossing Boulevard connecting I-40 to Louise Avenue, and the Rancho Santa Fe Parkway stretching from Hualapai Mountain Road north to Industrial Boulevard, with a four-lane stretch from Louise to Airway.
The mid-range plan also calls for numerous lane widenings including Airway Avenue from Western to Stockton Hill Road and from Sage Street to Kingman Crossing Boulevard, Gordon from Stockton Hill to Bank Street, Harrison/Willow from Andy Devine to Airway, Hualapai Mountain from Fripps Ranch Road to Seneca Street, and Stockton Hill from Detroit to Airway Avenue.
"We see a whole series of roadway widening and new construction, a new roadway for Rancho Santa Fe and Southern, opening up development for that eastern part of the city," Patterson said.
On the transit side, the mid-range plan calls for new KART routes along Gordon and Seneca, as well as new yellow line service to the Kingman Airport Industrial Park.
All KART routes are also suggested to incorporate a 30-minute headway during peak usage periods, plus new bus pull-outs and shelters for each route.
The long-range plan, which covers years 2021-2030, is by far the most ambitious, with no fewer than 13 lane widenings recommended along Stockton Hill, Andy Devine, Hualapai Mountain, Beverly, Eastern, Southern and Airway, as well as several other streets, and possibly even I-40 itself.
"We're now seeing a need to actually widen I-40, since long-range traffic numbers on I-40 get to the point where you see the need for a six-lane freeway," Patterson said.
The plan also calls for the establishment of new four-lane arterials along the Grace Neal Parkway from Stockton Hill to State Route 66 and along Santa Rosa Drive from Kingman Crossing to the Rancho Santa Fe Parkway, plus new two-lane collectors on Cherokee, Cheyenne, Dakota, Airfield, Castle Rock and Prospector, and a new north-south bypass of I-40 along Fort Beale Drive and Anson Smith Road.
Rounding out the long-term plan are new KART routes along Kino, Northern and Southern avenues, plus the eventual construction of a new transit transfer center and a new multi-use pathway connecting Airfield and Airway.
"Now the question is, how do you do all this?" Patterson said. "That's the big question, and if anybody's got an answer to that, as far as the financing, you'd be a hero."
He said that determining where the $300-million-plus financing would come from would be the biggest roadblock to achieving the plan's project goals, adding that the answer to that question would likely lie in multiple sources at the local, county, state and federal level. "It's going to require a partnership - the city, Mohave County, ADOT, land developers, the federal government - all of these partners are going to have to work together to pool resources and figure out a way to finance this system," Patterson said. "It'll be a combination of activity through the annual budget process the city goes through, it'll involve applying for federal grants, working with the county on intergovernmental agreements.
"It's going to be a complicated and difficult process," he concluded. "But this at least gives us a blueprint for the dialogue to begin, and that's really the purpose in doing this study."
Responding to audience questions, Patterson noted that the plan did not take the city's current finances into consideration, nor was it meant to. Rather, he said, it simply illustrated what the city should be doing if it wants to maintain an efficient and safe traffic system over the next 20 years of projected growth.
He added that the project did not include projections from unrelated transportation studies, such as the Interstate 11 project to connect Phoenix and Las Vegas, the US 93/I-40 bypass or the Tri-City Connector study that looked at the feasibility of establishing bus services between Kingman, Bullhead City and Lake Havasu City.
One audience member asked if the plan considered placing roundabouts at busy intersections in lieu of traffic signals or stop signs. Patterson replied that, while roundabouts can be an effective way to reduce traffic delays, they also require a large amount of right-of-way, and the plan did not look at implementing them in any specific locations. "They have that trade-off of cost versus efficiency," he said.
Patterson and several ADOT staff spent the next hour collecting public comments for further inclusion in the plan prior to its final draft. The public comment session for the plan remains open through Nov. 29, after which ADOT is expected to draft a final summary, which will be presented to the Kingman City Council at its Jan. 18 meeting. For more information on the plan or to submit a comment or request, visit the project website at http://www.azdot.gov/mpd/systems_planning/kingman.asp, or call Project Manager Justin Feek at (602) 712-6196.