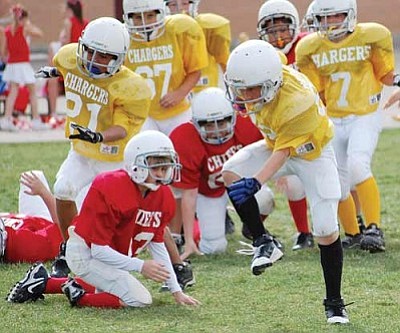 Originally Published: November 10, 2010 6:01 a.m.
KINGMAN - After going winless during the 2009 season and having lost their first four games this year, the Chargers are now rolling with two consecutive wins, including a 32-19 win over the Chiefs Saturday at Kingman Middle School to advance to the semifinals of the Kingman Youth Football League playoffs.
Gavin Lowey led the Chargers (2-4) with two touchdowns. He scored on the Chargers' first play from scrimmage with a 40-yard run and later scored on a 45-yard touchdown run.
Migel Salinas added a 30-yard touchdown run, Caleb Feil scored from 62 yards out and Bryce Brown added a rushing touchdown for the Chargers.
Defensively, J.R. Mendez and Kannon Butler had interceptions for the team.
Trey Hagler led the Chiefs (1-5) with two touchdowns, and Justin York had a 35-yard touchdown run.
Packers 20-0
Jay Gastineau, Derrick Kelley and Dominic Polley each scored touchdowns for the Packers (5-1), and a total team effort kept the Raiders (1-5) out of the end zone. The Packers advance to the semifinals against the Cowboys (3-3).
Vikings 21-7
In a non-playoff scrimmage, the Vikings stayed unbeaten with a 21-7 win over the Cowboys.
The Vikings (6-0) held a 14-0 first quarter lead after Chase Williams threw a 21-yard touchdown pass to Sean Sullivan, and Jeremy Stewart ran in the extra point. The Vikings added their second score when Sullivan ran in a 9-yard touchdown run, and Brycen Hodges ran in the extra point.
It was 21-0 at the half when Sullivan galloped 88 yards for a touchdown. Williams ran in the extra point.
The Cowboys got on the board in the third quarter when Andrew Davis scored from 45 yards out and ran in the extra point.
KYFL PLAYOFFS
Saturday
9 a.m. Raiders vs. Chiefs
Semifinals
10:30 a.m. Cowboys vs. Packers
Noon Chargers vs. Vikings