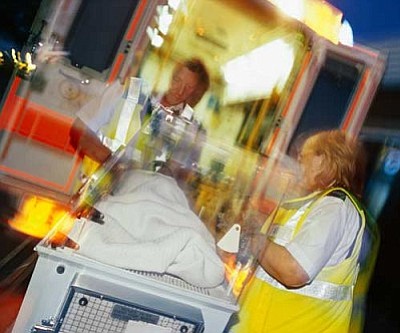 Originally Published: November 14, 2010 6:01 a.m.
KINGMAN - A 20-year-old man was seriously injured earlier this week after he was thrown from his motorcycle after striking a car.
The accident occurred just after 6 p.m. Wednesday in the southbound lane of Stockton Hill Road near Sycamore Avenue. Kingman Fire Battalion Chief Bill Johnston said witnesses reported seeing the man strike the rear of a car that was turning left into Walmart at a moderate speed.
The man, identified as Timothy Hoague, was thrown an estimated 25 feet from his bike. He was wearing a full facial helmet that sustained heavy cracking near the jaw area.
He was airlifted to a hospital in Las Vegas. An updated condition was not available.