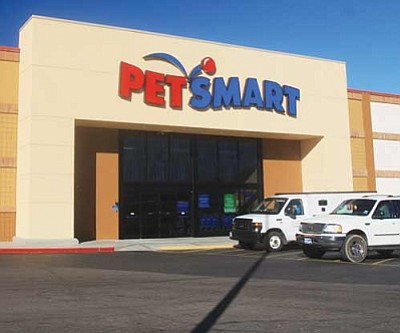 Originally Published: November 15, 2010 6:01 a.m.
KINGMAN - Pet lovers will soon have a new place to shop for their pampered pets.
PetSmart will hold its grand opening Saturday at 3260 Stockton Hill Road, the former Office Depot location. The first 500 customers will receive free T-shirts.
"We'll have balloons, vendor offers, games and more," said General Manager Jim Harrison.
Almost all of the positions at the new store are filled, he said. The company hired 24 Kingman residents, 15 who were born and raised in the city.
"That's what this is all about, finding jobs for local residents," Harrison said. Harrison is a Kingman resident himself.
Besides offering a plethora of perks for pet owners and their pooches, the store has teamed up with the Western Arizona Humane Society as an adoption center for cats. The store will be offering cats for adoption from WAHS seven days a week.
As part of the grand opening celebration, the WAHS will be holding a dog adoption day at the store.
PetSmart has helped nearly 4.3 million pets nationwide find new homes, Harrison said.
When asked if PETCO, located a few storefronts away, was a consideration in the location of the new store, Harrison said no.
The PetSmart corporate office took a number of things into consideration before choosing the old Office Depot storefront, including space, traffic and lease price.
"It was the right market and the right place," Harrison said.
In fact, the two businesses may be able to help each other out, Harrison said. For example, PetSmart doesn't carry salt-water fish but PETCO does.
"We're just happy to do business here and be able to give the community a choice," he said.