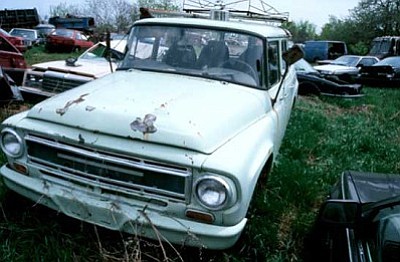 Originally Published: November 19, 2010 6:01 a.m.
KINGMAN - The Kingman City Council on Tuesday took the first official steps toward tightening up the city's public nuisance code to provide more immediate consequences for chronic offenders.
While Council has not voted on anything yet, members did provide direction to City Attorney Carl Cooper on how they would like him to rewrite the code. Council members agreed that they did not want to move away from the city's current complaint-based enforcement system, but they did approve of placing stricter time limits between an offender's first contact with Neighborhood Services and when they should be expected to abate their nuisance.
Council members also endorsed the creation of an abatement fund that would be used to collect nuisance fees and use them to pay for city-performed abatement work, as well as a zero-tolerance policy on nuisances that are deemed an environmental or safety hazard.
Both Vice Mayor Robin Gordon and Councilwoman Janet Watson noted that there have been some areas of the city where urban blight has gone unaddressed for months and even years at a time, and such areas are proof that the nuisance code currently lacks the "teeth" Neighborhood Services officers need to ensure proper enforcement.
Cooper noted that many people who are reported to Neighborhood Services are often willing to abate their nuisances, but can only do so little by little due to lack of time and money or physical frailty, and that only about 10 percent of the citizens reported are habitual offenders who simply refuse to address their situation.
Mayor John Salem suggested that, while the city should assume a more stringent policy, it should avoid taking away
too much of the individual officers' discretion for the 90 percent who do comply, while still putting in some form of timetable to ensure the other 10 percent are taken care of in a timely manner.
"Maybe we can just take it one step further to where, the first time we come out and visit, we don't cite, but we say, 'You've got 30 days to fix this. If you don't, then the city is going to move forward with furthering our case and this could possibly end up in the judicial process,'" Salem said. "We'll give you an amount of time to try and fix this, and if you can't, we'll work with you; but if you show a complete and total disregard for what we're trying to accomplish here, then it's going to move forward."
Cooper noted that criminally citing someone for a nuisance complaint and actually requiring them to abate the nuisance are two separate legal concepts. He said that if Council wanted to, it could require that each offender be cited at the time of their initial contact with Neighborhood Services, with the abatement maintained as a separate process. He did note, however, that such a policy would result in a flood of new criminal citations that could more than double his office's caseload.
"My current caseload right now is about 2,400 cases a year," Cooper said. "So you're looking at, I'd need more people, the courts would need more people - there's this big ripple effect when we start changing these things."
Linda French, the founder of local neighborhood advocacy group Residents Reclaiming our Neighborhoods, thanked the Council and the Clean City Commission for agreeing to revisit the nuisance code. Like Watson and Gordon, she stressed the need for stringent, enforceable deadlines for nuisance offenders to clean up their act, arguing that without deadlines, the city's current policy of voluntary compliance will leave many violations unresolved.
Salem gave formal direction to Cooper to pursue adding stricter time limit enforcement to the code as well as language to address habitual and ongoing nuisance offenders. He also directed Cooper to include language to create an abatement fund that will be funded by nuisance fines.
Cooper said he would probably return to Council with the new changes some time in January, with a vote likely to take place the following month.
By sheer coincidence, Council had expected to discuss approving the city's abatement of a nuisance earlier in Tuesday night's agenda. However, the nuisance in question - a metal cargo container full of bees - had been cleared prior to the Council meeting, rendering the item moot.
More like this story