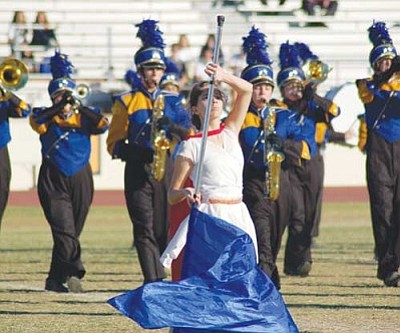 Originally Published: November 22, 2010 6:01 a.m.
KINGMAN - Band boosters across Kingman have something to be proud of this week after Kingman High School's marching band took third place in its division at the Arizona Band and Orchestra Directors Association's State Championship in Phoenix Nov. 13.
KHS topped seven other bands in the Division II competition, falling short of the second-place position by less than two points on a 100-point judging system that was based on three areas: musicality, visual effect and general effect. Kingman's marching band gave one of the best performances of any rural band at the competition, with only two Phoenix-area schools, Hamilton and Coronado, scoring higher.
"One of the judges afterwards said, 'Are you guys Kingman? You guys just snuck up on everybody, nobody saw you coming!'" said KHS band director Michael Schreiber. "To get third place out of however many Division II bands there are out there is a real accomplishment."
While this is only the second year ABODA has held a state championship format, KHS has already outdone its first-year performance, which saw the band place seventh out of the top 10 bands in its division. Schreiber said he hopes to place at least second next year, though he noted many of this year's band will have graduated by then.
"We're gonna lose about a third when they graduate - we have a big senior class leaving," he said. "But we have a really strong freshman class, so I have high hopes we'll pick up right where we left off next year."
Schrieber noted that, despite encountering different judges with different standards at each competition they go to, the KHS marching band has consistently done well wherever it competes, which he said demonstrates the band's true talent.
"The team that won (at the state championship) was actually the one we got one more caption than at the state festival, so it just goes to show that different judges will look for different things and award for different things," he said. "But even with different judging standards, that we're always right there in the top shows that we're consistently excellent."