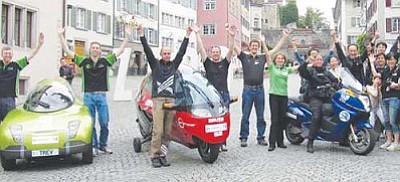 Originally Published: November 22, 2010 6 a.m.
GOLDEN VALLEY - Four teams of international electric car drivers will be making a pit stop this afternoon at the Golden Valley RV Park off Highway 93 as part of the North American leg of their 80-day, 16-nation, zero-emission race around the world.
The four teams from Australia, Switzerland, Germany and South Korea have been traveling since Aug. 16, when they set out in their custom-built electric vehicles from the United Nations Palace in Geneva on what has been dubbed the "ZERO Race." Since then, the four teams have passed through Belgium, Germany, Austria, Russia and China, then took a boat to Vancouver and have since been driving down the West Coast of North America on their way to Cancun, Mexico.
"They have a press conference in Vegas at 10 a.m. on Monday, then they're going to come here," said Malia Fisher, who manages the RV Park with her husband, Harry. "So they could be here anytime around or after noon, but that's a total guess just going by that. We had just gotten the call they were coming on Thursday night."
The stop will nevertheless be an appropriate one for the zero-emission cars, since the Golden Valley RV Park has recently installed the first of three phases of photovoltaic solar panels, which will eventually generate up to 100,000 kilowatts of clean, renewable energy. The ZERO Race, which was organized by Swiss inventor Louis Palmer, is a sequel to Palmer's own 18-month round-the-world trip in 2008, which he made in his custom-built "Solartaxi," a car powered entirely by the sun's rays.
Following their stop in Golden Valley, the zero-emission racers will continue their trek toward Cancun, where they will headline the United Nations Climate Conference scheduled for Nov. 29. After that, the vehicles will be shipped to Portugal for the final European leg of their journey before returning to Switzerland in January.
For more information about the ZERO Race, visit the race's website at www.zero-race.com. For additional details on the Golden Valley visit, call Fisher at (928) 565-2144.