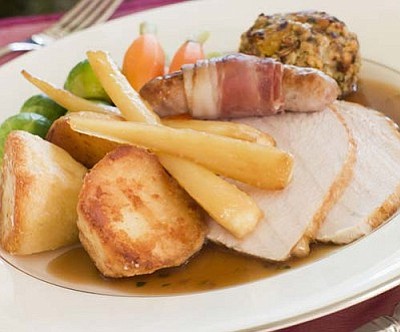 Originally Published: November 25, 2010 5:59 a.m.
KINGMAN - Several local establishments will be dishing out Thanksgiving dinners free of charge today.
St. Mary's Catholic Church is teaming up with Redneck's Southern Pit BBQ to offer a free traditional Thanksgiving dinner to the homeless and other families in need. Brandon Floyd, son of owners Bubba and Tammy Floyd, said they are expecting around 300 people at the restaurant, which will be open from 11 a.m. to 3 p.m. The dinner will be served by a combination of volunteers from St. Mary's and employees of the West Beale Street eatery. Floyd said he doesn't mind working in lieu of gathering around the table at home.
"This is a family-run business, so most of the family will be here anyway," he said.
Patrick's Café on Bank Street off of Northern will be open for regular business from 7 a.m. to 2 p.m. before closing for an hour to reopen for its free Thanksgiving feast, served from 3 to 6 p.m. Head waitress Tasha Rucker said the café does similar dinners on Mother's Day, Father's Day and Christmas as a way of giving back to the community. The dinner is open to the public.
Also open to the public will be Cornerstone Mission, a faith-based shelter that will serve Thanksgiving dinner from 3 to 6 p.m. The mission is located at 3049 Sycamore Ave. off of Andy Devine Avenue.