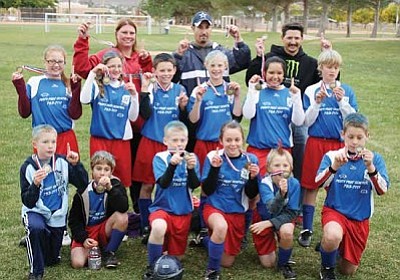 Originally Published: November 26, 2010 6 a.m.
KINGMAN - Penalty-kick shootouts decided three out of the four games in the Under-12 post-season tournament as the Northern Arizona Youth Soccer League closed out its Silver Anniversary Season on Saturday.
Only top-seeded Pesty Pest Control's 6-2 victory over Mertens Heavy Equipment ended in regulation. True Value and Edward Jones battled to a scoreless tie in the other semifinal before Edward Jones moved into the final
with a 2-0 victory on penalty kicks.
In the consolation match, True Value tied Mertens at 2-2 with just minutes left in regulation and then won 4-1 on penalty kicks. The final featured another shootout after Pesty Pest Control and Edward Jones ended regulation knotted at 1. Pesty Pest Control captured the U-12 championship 2-1 on penalty kicks.
In the U-8 division, Mandarin Orchid House downed Desert Edge Carpentry 3-1 in the first semifinal. 5dNetworks edged AZ Signs 7-2 in the other semifinal. In the consolation match, Desert Edge defeated AZ Signs, 4-1. Mandarin Orchid House captured the U-8 championship with a 3-0 shutout over 5dNetworks.
The U-10 division saw Mahoney Group dispatch Insurance Center 6-3 in one semifinal and Big Red Construction eke out a 1-0 victory over Big O Tires in the other. Big O came back to take third place, 4-2, over Insurance Center. Mahoney Group defeated Big Red Construction 6-2 for the U-10 championship.
Stagner Eye Center completed a perfect season with a 3-1 victory over Cerbat SC in the U-14 championship, after it took care of AIMS 6-1 in the semifinal. Cerbat SC reached the final by defeating Strictly Floors, 3-1. AIMS squeaked by Strictly Floors 3-2 to take the third-place match.
The 5th Annual NAYSL Awards Banquet was held the previous evening. Sportsmanship Awards were presented to a coach in each age division: Michelle Green in U-6, Anne Stephens in U-8, Ken Skousen in U-10, Preston Hicks in U-12, Dave Kopecky in U-14, John Tuepker in U-16 and Marty Huggins in U-19.
The league also recognized Amanda Skousen as Youth Referee of the Year. Peyton Cardiff received the Rookie Referee of the Year Award. Judy Venenga was named Volunteer of the Year, and Matt Croston received the "Good of the Game" Award.
One of the initial founders of the league and long-time referee Rod Hugunin was selected to receive the Lifetime Achievement Award for his dedication and service to the soccer community in Kingman.
NAYSL will be holding its next board meeting at 7 p.m. Tuesday, Dec. 7, at Kingman Middle School. Plans will be made for the upcoming Annual General Meeting in January where board members will be elected for the 2011 season.
For more information, contact the league at naysl_kingman@yahoo.com or by phone at (928) 757-7056.