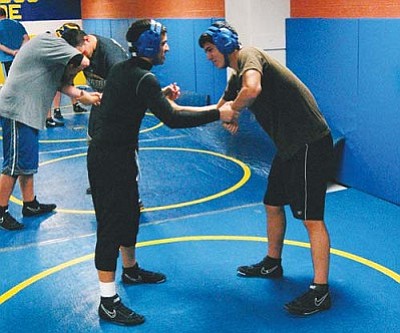 Originally Published: November 28, 2010 6:01 a.m.
KINGMAN - It's an even mixture of new blood and experience as the Kingman High wrestling team opens the 2010-11 season Wednesday in Goodyear in a dual match against Millennium and Phoenix Camelback.
"We have a lot more talent this year, but it's raw talent," KHS coach Brandon Clor said.
The Bulldogs feature seven returners and seven newcomers. The veterans are junior Jacob Chandler at 125 pounds, junior Thomas Canez (145), junior Patrick Sides (152), senior Joseph Costa (171), sophomore Andrew Leyva (189), senior Keith Milkie (215) and senior Alex Henry (285).
Two years ago, Chandler was a 90-pound freshman, but he has continued to grow and get bigger. Clor would like to see Canez move down to 140 so junior Jacob Aviles can have the 145 spot.
"Jacob is too athletic and too talented to stay at JV," the coach said.
Leyva moves up to 189 after Jeremy Alder graduated after last season. Alder finished sixth at state.
"Leyva will become a complete wrestler with maturity," Clor said. "He wins when he thinks he can win, and he loses when he thinks he'll lose. He's got some big shoes to fill."
Henry has secured the heavyweight position for now, but he does have to contend with his twin brother Brian. Clor has had success with the heavyweight position, and he doesn't expect that to change.
"Both are in the best shape they've ever been in," the coach said. "They have the maturity to be good wrestlers."
Sides begins the season with a chip on his shoulder after his season ended last year with a concussion. Clor said Sides has really come into his own and has shown the most improvement.
"That concussion gave me a whole new perspective," Sides said. "I got to watch other wrestlers and what they were doing. Then I began to perfect what I do and add some new moves and techniques."
With Leyva taking over at 189, that has opened the door for Costa at 171. Costa and Milkie are the Bulldogs' co-captains, and he returns after missing last season with an ankle injury. That appears to have healed after Costa was second on the KHS football team with 78 tackles.
"We have a good team, even in the under weights," Costa said. "There's more talent. The freshmen have been working hard, and they should do pretty good."
Three of the six newcomers are freshmen, with Andrew Adams at 103, Dalton Delong (130) and C.J. Gore (160). Gore has the biggest chore out of this group by being a freshman in a heavier weight.
"C.J. has some background in wrestling," Clor said. "The development of grappling around Kingman because of MMA has really helped us."
Travis Sharp at 112 is a senior transfer from Maricopa, sophomore Matthew Waite is at 135 and sophomore Alex Gabler (140) rounds out the Bulldogs' lineup.
"Travis looks good and has been taught up," Clor said. "He was a .500 wrestler at Maricopa and should do good for us."