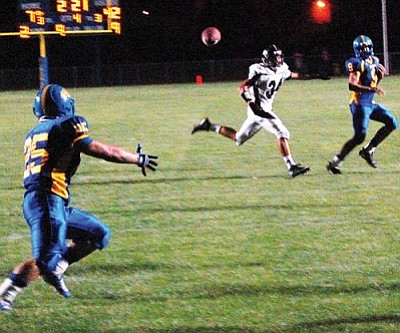 Originally Published: October 3, 2010 6:01 a.m.
KINGMAN - The Bulldogs came out and tried to do what it would take to win. It just didn't work out.
Glendale Mountain Ridge scored 35 points in the first half, and the Mountain Lions cruised through the second half for a 42-14 win over the Kingman High football team Friday at KHS.
"The kids came out hard," Bulldogs coach Rob York said. "I think they were excited to play, and that was good to see. I think that little delay may have hurt us."
After only five plays, the game was delayed approximately 45 minutes because of lightning in the immediate area.
In four plays from scrimmage, the Bulldogs gained 12 yards, as quarterback Dylan Smith was 3-for-3 passing.
After play resumed, KHS drove to the 50 where it stalled out and punted. Mountain Ridge took over on its own 20, and two plays later, P.J. Sparks ran through several KHS tacklers en route to a 69-yard touchdown run.
"That play when Sparks broke off, we had him but didn't tackle," York said.
"The kids were there. They just have to make the plays. That comes down to not practicing at game speed."
The next drive for KHS (2-3, 1-2 NW) stalled as well, and Sparks wrapped up a seven-play, 36-yard drive with a seven-yard touchdown run, and Mountain Ridge (4-1, 2-0 NW) led 14-0.
The Bulldogs and Mountain Lions exchanged possessions before KHS got rolling. The Bulldogs went on a 12-play, 80-yard drive that ended when Smith hit Sean Jordan in the back of the end zone with 9:42 left in the half. Marius Freytag added the extra point, and it was 14-7.
The defense then held for the Bulldogs when Mountain Ridge missed a 32-yard field goal attempt. However, KHS couldn't muster any offense on the ensuing drive, and Mountain Ridge quarterback Hunter Young hit Joshua Skadeland for a 44-yard touchdown pass to make it 21-7.
That's when things began to slip away for the Bulldogs, and Mountain Ridge scored twice more before the half ended.
"Mountain Ridge is good," York said.
"They're the No. 5 team in the state, and they've only lost to the No. 1 junior college team (Hamilton) in the state."
Smith ended up throwing 41 passes, completing 18 for 201 yards, two touchdowns and an interception. He teamed with Matt Farney in the fourth quarter on a nine-yard touchdown pass.
Jordan caught six of Smith's completions for 64 yards, including his touchdown. Jordan made two outstanding catches in traffic for the Bulldogs, including one where he took away an interception.
"Sean was going up and fighting for the ball," the coach said. "He's a good receiver."
Smith lined up in shotgun for most snaps, and that was a problem for KHS at times. The Bulldogs lost 42 yards because of bad snaps.
"We can't afford to lose yardage on penalties and stuff like that," York said.
Mountain Ridge is now behind the Bulldogs, so KHS is thinking about Valley Vista (2-3, 0-2 NW) in Surprise on Friday. The Monsoon was upended 30-19 by Glendale Deer Valley (3-3, 1-1 NW).
"There are games left for us to take," York said. "But nobody is going to give them to us."
More like this story