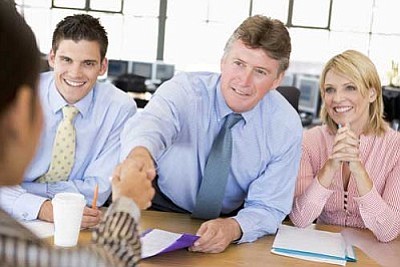 Originally Published: October 4, 2010 5:59 a.m.
KINGMAN - A weekly job fair series originally launched in February makes its return this month at the Cerbat Lanes bowling alley.
From 9 a.m. to noon each Wednesday in October, the bowling alley at 3631 Stockton Hill Road will play host to dozens of local employers and assistance agencies to help the thousands of area unemployed find work. According to the alley's district manager, Rusty Hanna, the new job fair series has been strategically placed to come just in advance of the holiday shopping season when many retailers are looking for extra help.
"Like every year, there are a number of businesses that key up for the holidays," he said. "Even though many of those jobs are temporary, it's relief of some kind for a while, and if one of the temporaries turn out to be an all-star, they're going to find a way to keep them. So it behooves the people who come in for those temporary jobs to do the best they can so they can be noticed and be kept."
Hanna said the event's coordinators are already combing the community looking for businesses to participate. One coordinator, Bill Hargrove of Mohave County Workforce Development, said that, while the final call list has yet to be finalized, the alley is hoping to reach out to as many as 100 local employers.
Hanna added that, this time around, he is hoping to take up a collection to help provide scholarships for local ekers to pay for their GED testing.
"Conventional knowledge is that education is so important to employment," Hargrove said. "So he wants to get money set aside to finish the $75 to take the GED."
"It might as well be $7,500 to a lot of people," Hanna added. "The situation's dire right now. Just look around."
In addition to local employers, the Cerbat job fair series will also include representatives of Mohave Community College, the Department of Economic Security and the Mohave County One-Stop Career Center to help local unemployed gain access to the benefits that are available to them, as well as to sign up for skill-building and resume-writing classes and other beneficial programs. As before, bowling will also be offered for free to all comers during the job fair.
Businesses or jobseekers interested in attending the program can learn more information by calling Cerbat Lanes Assistant Manager Yvonne Davis at (928) 692-1818.