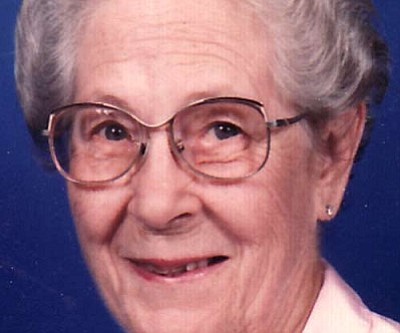 Originally Published: October 6, 2010 6:01 a.m.
Mary Florence Berry, 94, of Golden Valley passed away Monday, Sept. 20, 2010, at Kingman Regional Medical Center. She was born June 24, 1916, on a homestead in rural Central Oregon. She moved to the Kingman/Golden Valley/Wickenburg areas of Arizona 30 years ago from Prineville, Ore.
Among the many occupations she pursued, Mary was one of the "Rosie the Riveters" helping build ships in Portland, Ore. She was also a seamstress, a ranch hand, a ranch cook, and loved to play softball, garden and can produce. She shared it with everyone.
She was active with the 4-H, Paralyzed Veterans, Wickenburg Horseman's Association, Wise Owl Senior Center, American Cancer Society, and at one time she and her late husband manned separate watchtowers for the Oregon Forest Service, keeping in contact with each other by radio.
Mary is survived by two grandchildren, Jeri Houle of Oregon and Greg Miller of Washington State; and four great-grandchildren, Robbie, Kerrie, Natalie and Jackie. She is also survived by her sister, Ruth Thalhofer of Oregon.
There will be no services.
In lieu of flowers, donations can be made in her memory to the American Cancer Society - (800) 227-2345.
More like this story