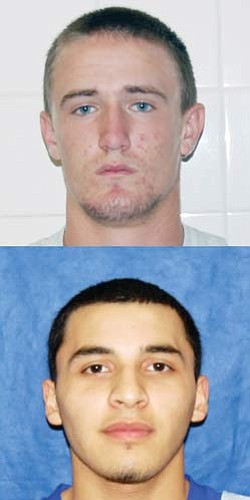 Originally Published: October 10, 2010 6 a.m.
KINGMAN - Committing four turnovers and getting penalized 15 times for 110 yards usually spells d-o-o-m, but the Kingman High football overcame its negatives and held on for a 20-12 win over Valley Vista Friday in Surprise, the Bulldogs second Northwest Region victory.
"It was a sloppy game, but the kids played tough," KHS coach Rob York said. "When Valley Vista got some momentum, our kids didn't back down. It the past few years they would have done that, but the kids stuck with it the whole game. They never quit and played real tough."
KHS (3-3, 2-2 NW) opened a 20-0 lead over Valley Vista (2-4, 0-3 NW). Quarterback Dylan Smith hit Gabe Lumas for a 7-yard touchdown pass near the end of the first quarter, and Marius Freytag added the PAT. In the second quarter, the Bulldogs scored on a 15-yard quarterback draw by Smith, and then the quarterback again hit Lumas for a touchdown, this time from 11 yards out.
Aside from the opening kickoff, the Bulldogs either went for onside or pooch kicks by Danny Gonzalez and recovered two of them that were converted into scores.
"Give that credit to coach (Dan) Hopper," York said. "What it came down to was our special teams were different every week, and we were having trouble covering the kickoffs."
The scoring drives and kick-off recoveries kept the Bulldogs defense off the field for much of the second quarter, which may have been why the Monsoon found the end zone late in the first half.
"It may have been they got a little cold," the coach said. " (Defensive end) Joseph Costa went up to coach (Brandon) Clor and told him he was hoping to play a little."
Smith ended up passing for 297 yards, completing 20 of 35 attempts. He threw the two touchdowns but had three interceptions.
Gonzalez caught 11 of Smith's passes for 189 yards and Lumas had six for 67 with the two scores.
On the ground, KHS rushed for 104 yards, giving the Bulldogs 401 yards in total offense. Smith rushed for 54 yards on eight carries, and Cody Schoonover rushed seven times for 31.
By the end of the game, it was the defense that came up big for KHS. It was the least amount of points the Bulldogs had surrendered this season, and they needed a big play to hold off Valley Vista.
The Monsoon made it 20-12 in the third quarter when they shifted to a double-wing offense but resorted to passing in the fourth quarter. Lumas came up with a game-saving interception to seal the win with two minutes remaining.
"We made big plays at the end that we needed to make," York said. "We made big tackles, big interceptions and big sacks. They played on Friday, and it was good to see."
Jose Cardenas, who was expected to see limited action, led the Bulldogs with seven tackles. Cody Schoonover had five tackles, six assists, two sacks and an interception. KHS forced five turnovers and had eight tackles for losses.
"The defense came out big and played really well," the coach said. "They were flying around."
KHS hosts Surprise Willow Canyon (3-3, 2-1 NW) in its Homecoming Game at 7 p.m. Friday. The Wildcats beat Goldwater 40-14 at home Friday.
More like this story