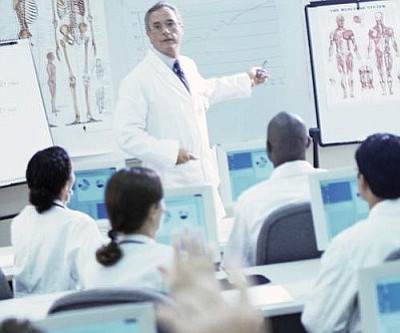 Originally Published: October 11, 2010 5:59 a.m.
KINGMAN - A new report from the U.S. Department of Education has found that, at 10.9 percent, Arizona's student loan default rate topped the rest of the nation for Fiscal Year 2008. And while the University of Phoenix was a major contributor to the state's overall default rate, accounting for nearly 70 percent of Arizona's total student defaults, it was by no means the only Arizona college to sport double-digit default.
In fact, Mohave Community College actually saw a bigger proportion of its students go into default over the same period, with 15.7 percent of its exiting student body unable to make their loan payments. That's more than five times the rate at Arizona State University, which boasts the state's lowest default rate among major colleges, and is also several points higher than most other community colleges in the state, such as those in Mesa, Chandler, and Pima, though on the average community colleges did sport higher default rates than the state universities.
MCC President Dr. Michael Kearns acknowledged that the default rate was hardly something to be proud of, but he argued that it was primarily the result of a poor economy, high regional unemployment rate, and the non-traditional makeup of MCC's student body, rather than any specific policy of the college itself.
"Most of our students work to go to school and they're working adults. Our students are older - our average age is 30 years old - and lots of them are trying to support a family," he said. "When the economy went down, a lot of them had to drop out of school, and when they drop out, all of a sudden it kicks them into a position where they have to inform the government and go into repayment."
Kearns noted that most other community colleges are closer to larger cities and tend to have a younger, more-traditional student body, with state universities even more so. Those traditional students, he said, generally don't have the same financial burdens and responsibilities of adult students, such as a full-time job and children. They also typically have more structural assistance from their families, whereas many MCC students have to depend on themselves to make ends meet.
"Here we have working adults," Kearns said. "They rely on financial aid to get through the process, and if something happens in their life, they don't have that large support network to help them."
He added that one of the few colleges to exceed MCC's default rate, Arizona Western, is based out of Yuma, which is also the only major metropolitan area in the state to have a higher unemployment rate than the Kingman-Lake Havasu region. That's no mere coincidence - Kearns explained that unemployment and underemployment tend to go hand-in-hand with community college enrollment, as people begin to look for new skills that will either help them land a job or advance them out of their current one. The problem is, he said, these same students are also the ones in the most likely position to default on their debt.
"Our enrollments are directly related to unemployment rates. As unemployment goes up, our enrollment goes up - we've exceeded 10 percent growth the previous three years and we expect nearly that much this year," Kearns said. "It's unfortunate, but as long as unemployment remains high, we expect to continue to see high numbers of new students coming to the college."
And with increasing enrollment comes the increased potential for loan defaults. Fortunately, however, Kearns said the college has begun to address the issue, creating a default management plan to work with students in order to ensure they know what they're getting into when they take out a student loan.
"There are new responsibilities and requirements from the federal government and students need to know what those are, because if their status changes, they're going to be put into repayment status, and in repayment status they've got to do some things (to avoid defaulting)," he said. "We try to educate them up front. You want them to make good decisions, understanding they do need an ability to repay, and we don't want to get them into situations where they're unable to pay once they've finished."
Kearns added that the college conducts exit interviews with students to assess their ability to pay off their loans, and to provide advice and assistance if the situation looks less than ideal.
"They can ask for a deferment or forbearance, for example, but that requires the student to fill out paperwork," he said. "At the time of the exit interview, we try to ensure that they know how they need to service their loan after they've left the college, who to contact and all that kind of stuff."
Unfortunately, the college is unlikely to know how well the program is working until it has several more years worth of student financial data, since students typically don't have to begin paying off their loan until after they've stopped attending. All the same, however, Kearns said the importance of student loans cannot be discounted, as they remain one of the only ways many people will ever have a chance at getting a college education.
"Financial aid has opened the door to community colleges because it provides accessibility," he said. "Many can't afford to move to Tucson or Flagstaff, so MCC is their only access to higher education, and financial aid is the only way they can afford it.
According to the Department of Education report, MCC's default rate has dropped about five points from its FY 2007 rate of 20.2 percent.
Arizona default rates
Student default rate by school, FY 2008:
Arizona (state average) 10.9%
Mohave Community College 15.7%
Cochise College 19.6%
Arizona Western College 16.1%
Pima Community College 13.1%
University of Phoenix 12.9%
Mesa Community College 12.8%
Gateway Community College 10.6%
Chandler-Gilbert Community College 8.5%
Northern Arizona University 4.3%
University of Arizona 4%
Grand Canyon University 3.4%
Arizona State University 3%