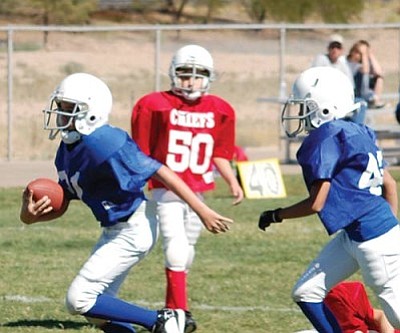 Originally Published: October 13, 2010 6:01 a.m.
KINGMAN - The Cowboys and Vikings remained unbeaten and the Raiders improved to 1-1 during Kingman Youth Football League action Saturday at Kingman Middle School.
Cowboys 35-14
Andrew Davis scored on 50- and 47-yard runs for the Cowboys in their 35-14 win over the Chiefs. Davis also added two extra points, and Andrew Quick, Seth Dean and Justin Lansford each added a touchdown for the Cowboys. Lunsford also scored two PATs.
Quick's score was an 18-yard run in first quarter, and Dean found the end zone on a 19-yard run in the second quarter. Lunsford's touchdown came in the fourth from the 3-yard line.
Kalanie Levrets and Jack Kirby helped the Cowboys' rushing attack, and fourth-grader Tyson Levrets had an interception for the Cowboys' defense. Cody Swanty, Edmond Ashton and Dalton Long stood out for the Cowboys on defense.
Vikings 27-6
The Vikings led 14-0 at half after Jeremy Stewart scored in the first quarter on a 2-yard run, with Sean Sullivan adding the extra point, and then Chase Williams galloped in for a 15-yard touchdown, with Stewart adding the extra point, in the second quarter.
The Vikings scored again in the third when Brycen Hodges ran in from 22 yards out, with Stewart adding another extra point. The Packers got on the board with a Derrick Kelley touchdown, but the PAT failed.
Hodges added his second touchdown of the game on a 70-yard rush in the fourth quarter.
Raiders 9-6
This contest went down to the wire. The Chargers scored late in the fourth quarter but missed the extra point to narrow the Raiders' lead to 7-6. The Raiders turned the ball over on downs and then pinned the Chargers deep in their own territory.
The Raiders got a safety, and after giving the ball back to the Chargers, the Raiders defense held on for the win.
KYFL STANDINGS
Team W L
Cowboys 2 0
Vikings 2 0
Packers 1 1
Raiders 1 1
Chargers 0 2
Chiefs 0 2
Saturday's Games
9 a.m. Vikings vs. Chiefs
10:30 a.m. Chargers vs. Cowboys
Noon Packers vs. Raiders