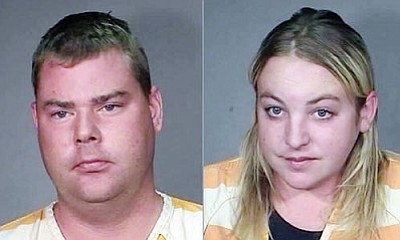 Originally Published: October 14, 2010 5:59 a.m.
KINGMAN - Kingman Police officers responded to a shooting call Tuesday evening and arrested three people in the 2900 block of Evans Street. No one was hurt in the incident.
According to Kingman Police Sgt. Bob Fisk, Miklos Veszelovszky III, 31, his girlfriend - Lacy Marie Powers, 25, and another man were drinking at a home on Evans Street around 5:45 p.m. when Veszelovszky got into an argument with one of the neighbors.
Veszelovszky went into the home and retrieved a gun. According to KPD, he fired the gun four times in the air and then pointed the gun at several people.
Veszelovszky, Powers and the other man then got into a car and left. Officers stopped the car and arrested Veszelovszky on 11 counts of felony aggravated assault and one count of disorderly conduct with a weapon. Powers was arrested on one felony count of hindering prosecution.